Exclusive
EXCLUSIVE: Oprah Winfrey's Australian Trip Could Be Grounded By Qantas Airplane Malfunction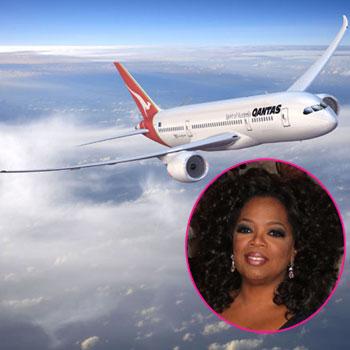 On Thursday, Qantas Airlines- the company Oprah Winfrey intends on using for the John Travolta-piloted flight for her audience- grounded its entire fleet of A380 Airbuses after a craft carrying more than 440 passengers and 26 crew members was forced to land when part of one of its engines disintegrated in mid-flight. RadarOnline.com has the talk show host's current plans for the trip following the harrowing incident.
Article continues below advertisement
"We have commenced our own investigations as to how this incident occurred and have notified the ATSB," the company said in a statement Thursday. "We will continue to work with them as they investigate the issue. The flight crew carried out standard procedure for this situation."
Qantas added that "it has suspended scheduled A380 takeoffs until sufficient information has been obtained about what occurred."
Article continues below advertisement
So where does that leave Oprah and her guests?
In an exclusive statement to RadarOnline.com, a spokesperson for The Oprah Winfrey Show said, "We are grateful that everyone aboard Qantas flight QF32 is safe and there were no injuries to passengers or crew.
"The safety of our trip attendees is our first priority," the show told RadarOnline.com. "We have been in touch with Qantas and are discussing all our travel options for our December trip. We will continue to monitor the situation closely."