Schwarzenegger Kid: 'We Own Hummers, We'll Be Fine!'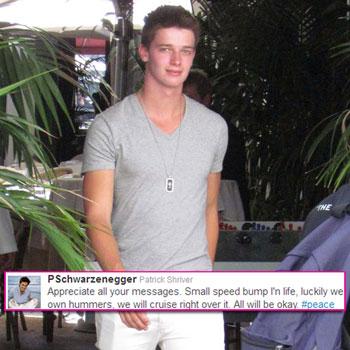 RadarOnline.com Staff Reporter
His mom and dad are separated, but son Patrick Schwarzenegger isn't worried – because they drive Hummers!
"Appreciate all your messages. Small speed bump I'n life, luckily we own hummers, we will cruise right over it. All will be okay. #peace," Patrick tweeted Tuesday morning.
Interestingly, Patrick's username on Twitter has his father's last name while his profile name is listed as Patrick Shriver, using his mother's maiden name.
Article continues below advertisement
A recent switcharoo?
Arnold Schwarzenegger and Maria Shriver announced their separation after 25 years of marriage on Monday evening by releasing a joint statement.
But Patrick , only 17, doesn't seem worried about how it will impact him. He's already on the road to success as a model – he's just signed with L.A. Models -- businessman, and party animal.
He hangs with Tallulah Willis – daughter of Bruce Willis and Demi Moore – he told Details. The trendy men's mag has a lengthy profile on the hunky teen in its current issue.
Patrick's Twitter mates are Selena Gomez and Kendall Jenner, he also revealed. And he talked about the for-profit Halloween party he threw last year. Six hundred kids attended, paying $20 each, and "we flew in a rap band from the East Bay called The Pack," Patrick said, adding that cops busted the party for underage drinking.
His parents' response? "They're glad I had fun with it but they weren't happy with how it was portrayed in the media."