Crystal Harris Puts Hef's Engagement Ring Up For Auction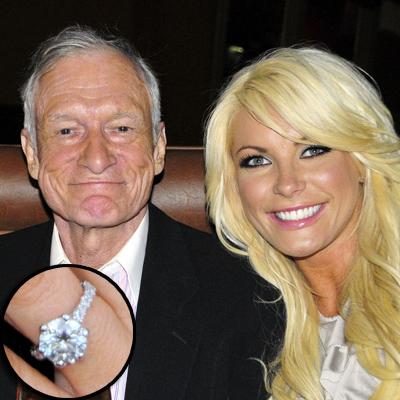 Crystal Harris has put her engagement ring from Hugh Hefner up for sale at Christie's auction house in New York.
The blonde beauty called off her marriage to the 85-year-old Playboy founder just days before it was due to take place in
June, and has since listed her 3.39 carat circular-cut diamond with a guide price of between $20,000 and $30,000.
A source said Crystal, 24, "couldn't bear to look at the ring anymore because it brought back bad memories".
Article continues below advertisement
The lot description on the website christies.com reads: "A diamond ring. Set with a circular-cut diamond, weighing approximately 3.39 carats, to the circular-cut diamond hoop, mounted in platinum."
Hugh -- who has been married twice previously -- let his former fiancee keep her engagement ring, because he doesn't believe she was "faking" her feelings for him.
He said: "I truly didn't see it coming. I think an argument could be made that she took me for a ride, but I must say, quite frankly, it was a pretty nice ride.