Hugh Hefner And Crystal Harris Had Threesome On Night They Met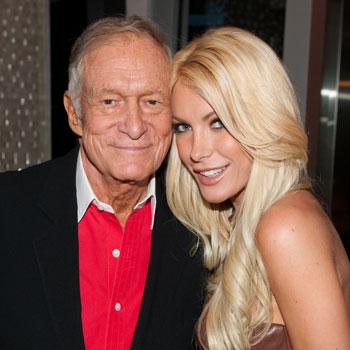 Hugh Hefner had a threesome with Crystal Harris on the night they met.
The 85-year-old Playboy founder had sex with the former Playmate of the Month and a "girlfriend" on their first night together, and they got on so well that Crystal later became his fiancée.
Hef spilled to The Hollywood Reporter: "We had sex with her and a girlfriend. We had sex the first night that we met, with another girl, and it was such a nice relationship that I kept them both over for a weekend."
Article continues below advertisement
The couple were set to marry earlier this year but Crystal – whom Hugh claims he used to have sex with "once a week" – broke it off just days before the ceremony.
As RadarOnline.com exclusively reported, Crystal had been seeing Dr. Phil's son, Jordan McGraw in the run-up to her planned wedding to Hef.
However, the publisher insists he is not bothered about being jilted, although he regrets the end of their relationship.
He added: "You know, she's the one that wanted to get married, not me. But I think that Crystal is more than one person; she was kind of lost and overwhelmed by the relationship, and got caught up in an affair while we were going together that I knew nothing about.
"There was no disappointment in terms of not getting married - it's the disappointment of the relationship going south.
"It wasn't that I wanted to be married; what I wanted was continuity. But I misread the signs."