Crystal Harris Apologizes For Stern Interview, Tells Hef 'I'm Sorry'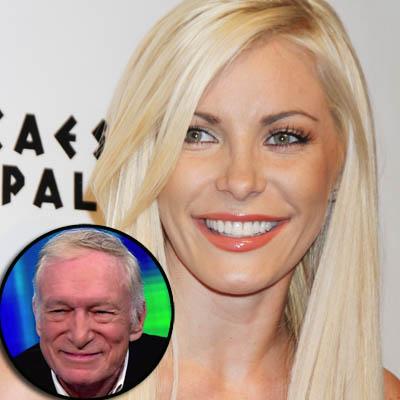 Crystal Harris, the ex fiancée of Hugh Hefner, said she's sorry for making derogatory remarks about the Playboy founder during her appearance on The Howard Stern show this week.
"The Stern interview scared me, he's harsh," Harris tweeted Thursday night regarding her run-in with the famed Sirius broadcaster. "I was unprepared and blurted out things I shouldn't have said, I'm sorry."
Article continues below advertisement
Crystal's remarks "didn't have much to do with reality," the Playboy founder tweeted. "I think Crystal told Howard Stern what he wanted to hear ... I don't blame Howard. Crystal shouldn't have been booked on the show at this sensitive time." (We guess it's Baba Booey's fault.)
Here's how the controversy unfolded:
On Tuesday, Harris sat down with Stern, who asked her, "Did you have an orgasm when Hef f----d you?"
"No!" Harris said, before making a face of disgust.
"How long did this horror situation last, the actual sex?" Stern asked the one-time Playmate.
"Like two seconds," Harris said.
"Two seconds and Hef had an orgasm?" Stern asked.
"Ehh, I was over it ... I just like, walked away," Harris replied. "I'm not turned on by Hef, sorry.
Hefner promptly responded, calling his ex a liar Tuesday on Twitter.
"Crystal lied about our relationship on Howard Stern but I don't know why," Hef tweeted Tuesday night, later taking it down. "Maybe a new boyfriend?"