Exclusive
Kat Von D Says Jesse James Cheated On Her With 19 Women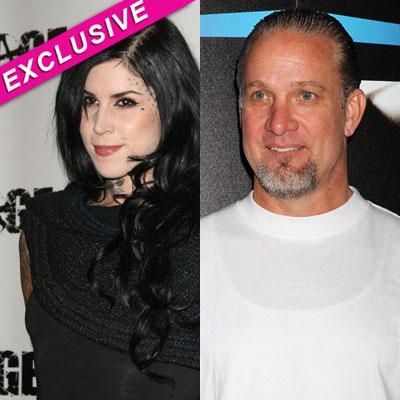 Kat Von D says Jesse James cheated on her with at least 19 women, RadarOnline.com has exclusively learned.
In a lengthy Facebook blog titled "Thank You, Jesse James" posted on Sunday, Kat reveals that her relationship with Jesse was "toxic" and that she "encountered" the 19th woman he'd cheated on her with during their relationship.
"Today I encountered the 19th girl to add to the list of people Jesse cheated on me with during this last year," Kat wrote.
Article continues below advertisement
"I kept going back and forth in my mind as to what the best way would be for me to release and let go of any residual feelings remaining from that toxic relationship. All of this may sound petty or immature to some, but I assure you this is coming from a place of pure honesty and love."
Kat says she tried desperately to prove people wrong after Jesse's marriage to Sandra Bullock crumbled when he was found cheating and he was labeled a serial cheater.
"There was a time when I was confident and excited at proving the world wrong, because I believed so deeply in people's ability to change for the better," she wrote.
"Although this was not a primary purpose in the relationship, I did feel like it would be a positive thing for those who judged Jesse solely based on what they read in tabloids, to see that change is always possible -- even in the people who seem hopeless."
Article continues below advertisement
Kat called Jesse out for his philandering ways and urged him to focus on other things in his life.
"I think it just made me sad today to imagine him still in that dark place -- where seeking validation through the attention of women takes precedence over being a good father, a sincere friend, a better coworker, and a happy individual," she wrote.
"I tried my best to go through all of this without venting, or complaining, or fueling more tabloid mumbo jumbo -- but this isn't about any of that... This is about me making peace with myself, and forgiving myself for making some bad mistakes."
But at the end of it all, Kat thanks Jesse for the lesson he forced her to learn.
"Time is something you can never get back, and what we do with this very present moment is the most real thing we have. So if that's the lesson Jesse forced me to face and learn by all of this, than all I can say is Thank You," she wrote.
"It would be nice to move on now, and kindly thank you all in advance for your support, love, and positivity."