Kat Von D Calls Jesse James Her 'Cheating Ex' On Twitter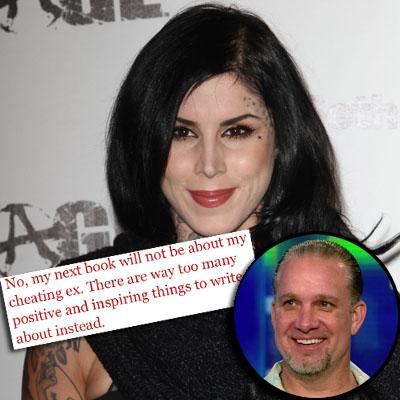 A cutting tweet from Kat Von D. on Monday is adding fuel to rumors that Jesse James cheated on her again, causing them to split up last month.
On Monday, the L.A. Ink star, who is penning a new book, wrote on Twitter:
"No, my next book will not be about my cheating ex. There are way too many positive and inspiring things to write about instead," she wrote, presumably talking about former fiance and infamous philanderer, Jesse James.
Article continues below advertisement
When a follower asks: "are you with Jesse or what? Curious!"
Kat bluntly replied, "hell no."
It is unclear whether Kat is confirming that James cheated on her or if she is referring to his infidelities while married to Sandra Bullock.
As RadarOnline.com reported last month, a woman who claimed she was dating James while he and Kat were broken up, wrote an angry rant about him on Cheaterville.com.
"You can't stay faithful because you hate yourself, therefore you secretly hate everyone else in your life. That's why you treat women like sh*t. Why don't you finally be a man and tell everyone why Kat dumped you this time?"
The scorned woman wrote: "Is it because you lied to her and said that you didn't see anyone while you two were 'on a break.' How did she find out about me Jesse? I know you didn't tell her, and I didn't say anything because I didn't even know that you two got back together until the entire world found out.
"You're beyond an a**hole, you're a sick predator who doesn't respect women. I'm no saint either but at least I knew that it was over with my husband before spending a second of my time with you."
Article continues below advertisement
It is surely no coincidence that, as RadarOnline.com previously reported, Kat hopped onto Facebook soon after the Cheaterville.com message went up and wrote:
"I am not in a relationship (And I apologize for all the back and forth if it's caused any confusion)."
Kat and James originally called off their engagement in July, got back to together in August and have apparently now called it quits for good.