Jesse James Accused Of Cheating On Kat Von D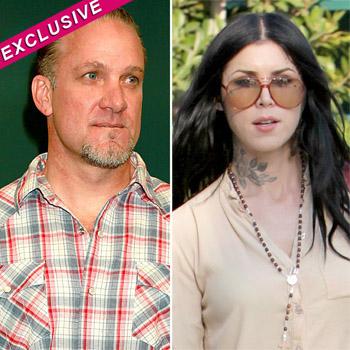 By Alexis Tereszcuk - RadarOnline.com Senior Reporter
Did Jesse James cheat on Kat Von D, causing their most recent breakup?
Sandra Bullock's ex-husband is no stranger to stepping out on a relationship – she divorced him after his numerous affairs surfaced shortly after she won an Oscar in 2010.
Bouncing back, he started dating reality star and tattoo artist Kat Von D, proposing to her, calling off the engagement, getting back to together again and then splitting again!
Article continues below advertisement
A woman who claims to have been hooking up with James while he and Kat were broken up and then back on says she was dating him while he and Kat were "on a break," and posted a rant about him on the website www.cheaterville.com.
"You can't stay faithful because you hate yourself, therefore you secretly hate everyone else in your life. That's why you treat women like sh*t. Why don't you finally be a man and tell everyone why Kat dumped you this time?" The "scorned woman writes. "Is it because you lied to her and said that you didn't see anyone while you two were 'on a break.' How did she find out about me Jesse? I know you didn't tell her, and I didn't say anything because I didn't even know that you two got back together until the entire world found out.
"You're beyond an a**hole, you're a sick predator who doesn't respect women. I'm no saint either but at least I knew that it was over with my husband before spending a second of my time with you.
"I'm disgusted with myself more than I am with you, I should have known better. Any man who spends every second on his phone texting is up to no good. Ironic how you spend so much time on your phone but won't return any of my texts or emails. I bet I have your attention now don't I? Oh by the way, thanks for the parting gift you left me.....that's the ONLY REASON why I'm not telling the world exactly who I am but you most certainly know. D*ck."