Exclusive
Demi Moore And Ashton Kutcher's $290 Million Divorce Battle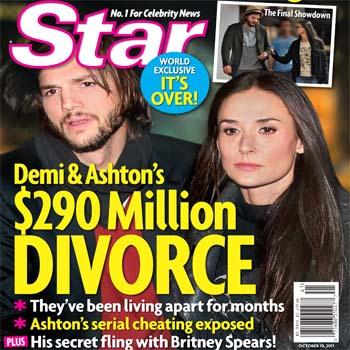 Article continues below advertisement
Humiliated by the very public way in which Ashton cheated, Demi made her decision weeks ago to file for divorce, and now she is preparing to battle him over their substantial fortune, which is an incredible $290 million!
After Ashton's fling with Leal became public (including the detail that they had unprotected sex) he tried to fix things with his wife, but they were already living separate lives and the marriage was beyond repair.
In fact, they were literally living on opposite sides of the country, with Ashton filming Two and a Half Men in L.A. and Demi working on the upcoming film Magic Mike in NYC.
"Demi's finally ready to move on after all these years because she's sick of feeling like she can't trust Ashton," an insider revealed to Star. "Especially as his star continues to rise with Two and a Half Men, he's become really vague about where — and with whom — he spends his time."
Article continues below advertisement
And, while his latest fling may have been the final straw, this is not the first time that Kutcher has been caught cheating.
As Star exclusively reported, 21-year-old Brittney Jones claimed that she had a steamy one-night stand with Ashton last year after she met him at the Lucky Strike Lanes in Hollywood in July 2010, when he was out with Demi and her daughter Rumer Willis.
Now the pair are lawyering up in the fight for their $290 million fortune with Demi making the first official move, and it's looking like it could be an epic battle.