Ashton Kutcher's Somber Video: 'There's No Gatekeeper To The Truth'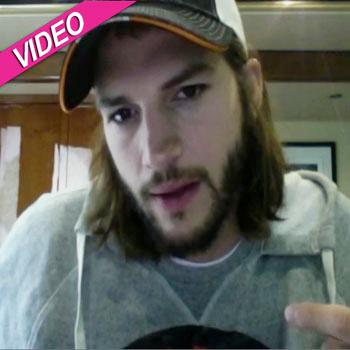 A somber Ashton Kutcher appears to be once again indirectly addressing reports that he cheated on his wife Demi Moore with a much younger blonde bombshell.
The Two and a Half Men star -- sporting a baseball cap and shaggy beard -- speaks out about "honesty and truth" in the media in a nearly four minute video posted online this week.
"I just wanted to open up a little dialogue on the state of honesty. The state of truth. The status of truth as it pertains to literature and media," the actor says in a soft-spoken voice.
Article continues below advertisement
Ashton goes on to share his thoughts on how the Internet and social media have caused rumors and gossip to spread like never before.
"There is no gatekeeper to the truth. We are our own editors, we are our own publishers and we are our own printers. Therefore, people can bastardize the truth in any way, shape or form that they want and spread that around the world," he said. "A lie can travel halfway around the world before the truth can leave someone's lips…"
Article continues below advertisement
As RadarOnline.com has previously reported, Sara Leal, 23, says she slept with Kutcher in San Diego on the day of his sixth wedding anniversary to Moore.
Kutcher, 33, and Moore, 48, married on September 24, 2005 at their home in Beverly Hills.
Like Kutcher, Moore has yet to directly comment on the scandal.
Star was first to break the news that the couple will be battling it out in a $290 million divorce.