Exclusive
Shockingly Skinny Demi Moore Has Dropped To 90 Pounds, Says Expert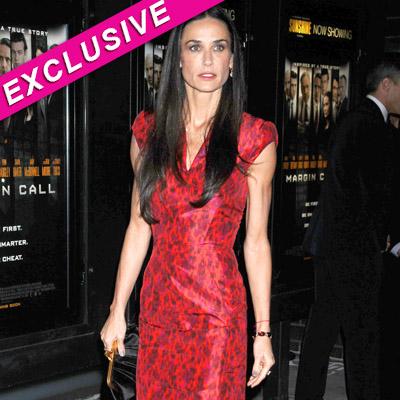 Demi Moore was already looking startling thin before husband Ashton Kutcher's latest cheating scandal, and now the actress' weight has plunged to a frightening new low, according to an expert.
As RadarOnline.com previously reported, the 48-year-old Ghost star was a shadow of her former self when she appeared at the New York premiere of her new thriller Margin Call on Monday.
"She has lost another 10 pounds in a short period of time," nutritionist Majid Ali, who as not treated the star, told RadarOnline.com in an exclusive interview.
Article continues below advertisement
Ali estimates that the 5'5" actress appears to weigh as little as 90 pounds. "She looks like she has gone even lower in the past month.
"Those protruding cheeks and rather gaunt face are not a healthy sign," he explained, adding that, "Stress can really debilitate an appetite."
As we previously reported, Kutcher is accused of bedding a blond party girl named Sara Leal at the Hard Rock Hotel in San Diego last month, on the same night of his sixth wedding anniversary with Demi.
Known for her strict diet and weight loss regime, the Striptease star revealed to British Elle earlier this year that she used to have an unhealthy "extreme obsession" with her body.
From the raw food diet to the Master Cleanse, the Charlie's Angels star has been open in the past about her dramatic methods of calorie-restriction to lose weight, as RadarOnline.com previously reported, and now fears are mounting that she could be heading back down an unhealthy path.
Article continues below advertisement
"It is clear from the pictures that she looks as if she is going through some rough times," New York-based psychotherapist Jessica Aronson, who has not treated Demi, told RadarOnline.com. "It is not uncommon for people to lose or gain weight during times of stress.
"Very often women use their weight as a way to control something when other areas of their lives feel out of control," such as by restricting calories or over-exercising, explained Aronson.