Super Skinny Ali Lohan Out And About In New York City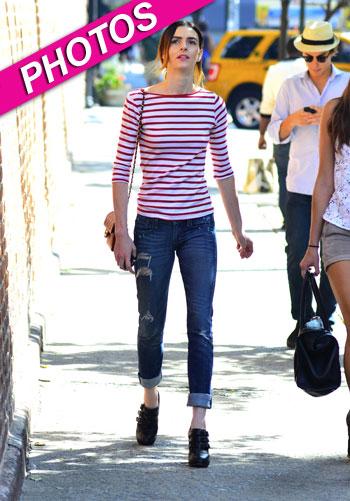 - RadarOnline.com Senior Reporter
Lindsay Lohan's little sis, Ali Lohan, was spotted in New York showing off her super skinny body Monday and RadarOnline.com has the photos of the aspiring model.
Ali, just 17 years old, was wearing jeans that hung off her teeny tiny frame and a red and white striped sailor shirt that showed off her gaunt body.
Her weight loss has been noticeable recently and the affect it is having on her looks is shocking.
Article continues below advertisement
As RadarOnline.com previously reported, a leading nutritional expert estimated that Ali has dropped down to 95 pounds.
"She is very underweight. By looking at her cheekbones you can tell she has muscle wasting going on," Dr. Majid Ali, who has not treated Ali, exclusively told RadarOnline.com when he saw the shocking pictures of the teen.
Ali's father, Michael Lohan, has expressed his concern over his younger daughter after seeing evidence of her dramatic weight loss.
"It's scary to see my daughter looking like this," he exclusively told RadarOnline.com. "Ali was always on the thin side but seeing how much weight she's lost there appears to be a drastic change that concerns me."
However, Lindsay is defending her baby sister's look. "I love how haters pick on my sister yet every runway model is just as thin! My sister is gorgeous and I'm so proud of her and her career!!!!" She tweeted.
Article continues below advertisement
And Ali also shot back at her detractors -- in an exclusive statement to RadarOnline.com, Ali's powerhouse publicist, Steve Honig says: "Aliana has never had any type of plastic surgery in her life, nor has she ever considered it. Her success as a model lies with her natural looks and she has no interest in changing that.
"During the past two years, she has gone through a normal teenage growth spurt that has made her taller and slimmer. It has also slightly changed the composure of her face, all of which is typical of what happens to kids in their mid to late teens. It's what most people refer to as the awkward stage. Ali is growing up, that's all."