Exclusive
Ali Lohan Is Down To 95lbs, Has Muscle Wasting Going On, Says Nutrition Expert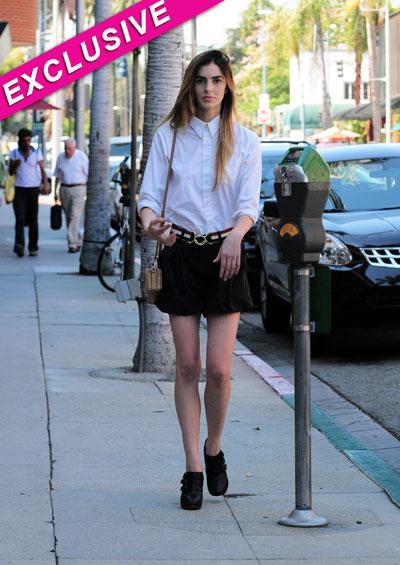 A leading nutrition expert estimates that Ali Lohan's weight has plummeted to 95lbs after seeing the shocking photos of the 17-year-old taken this week.
Lindsay Lohan's younger sister, who recently signed a modeling contract, looked emaciated with sunken cheeks and skinny arms and legs while out in Beverly Hills, leading to concerns about her health.
"She is very underweight. By looking at her cheekbones you can tell she has muscle wasting going on," Dr. Majid Ali, who has not treated Ali Lohan, exclusively told RadarOnline.com when he saw the shocking pictures of the teen.
Article continues below advertisement
"I'm unsure how she is losing weight but she has the look of someone who may binge and purge plus calorie restrict," he said Dr. Ali, Editor, The Journal of Integrative Medicine; Formerly, Associate Professor of Pathology, College of Physicians and Surgeons of Columbia University, NY.
"When that happens, the body looks for calories by feeding on itself. Muscle is the first to go then fats, hence the loss of bust size and the curves. At her height, I'd put her under 100lbs, maybe 95ish, and that's way, way too thin."
The doctor said he does not believe Ali is at a healthy weight. "If it is calorie restriction she has to be under 800 calories daily," he estimated of Ali's eating habits.
"Additionally if you look at her eyes, it is the empty look of someone nutritionally underserved, not enough proteins, fats, carbs and their vitamins and minerals to give her a healthy look."
Experts have also been weighing in with their opinions that the teen has surgically enhanced her look. Dr. Gary Alter, from E!'s now defunct TV show Dr. 90210 said that he believes Lohan has had Botox injections to raise her eyebrows and Dr. Alex Karidis said he believes she has had injectable fillers in her cheekbones as they are lot more defined now.
Article continues below advertisement
"She looks like she's had injectable fillers in her cheekbones as they are lot more defined now.
"It would be a quick and easy procedure to do especially if she wants to enhance her features as a new model."
As RadarOnline.com previously reported, Ali has just signed a contract with the famous agency NEXT Model Management who denied knowing about any surgery she may have had to change her look.
"Contrary to recent reports, I can confirm that Aliana Lohan has not had any surgery," Alexis Borges, Agency Director of Next Model Management LA said.
"As a young girl who is growing up, it's natural for her facial features to change slightly, and we see this with many of the younger models we represent. Aliana is a beautiful 17-year-old girl who is growing into her face and body, as is the norm for someone of her age. "We take pastoral care of our models very seriously and encourage the models to maintain a healthy lifestyle and body shape."
Ali's father Michael Lohan has also weighed in on the matter and says he's very concerned. "It's scary to see my daughter looking like this," he exclusively told RadarOnline.com. "Ali was always on the thin side, but seeing how much weight she's lost there appears to be a drastic change that concerns me."