Exclusive
EXCLUSIVE: Ashton Kutcher's Mistress Was 'Obsessed With Him For Years' - New Photos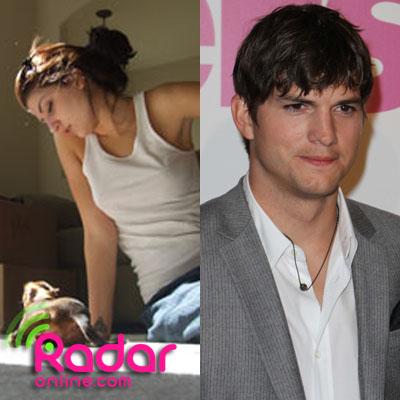 Brittney Jones, the 21-year-old woman who claims she had a steamy one night stand with Ashton Kutcher, had her sights set on him for years, RadarOnline.com is reporting exclusively.
A source close to Brittney told RadarOnline.com exclusively that Jones "has always been obsessed with Ashton" pre-dating the steamy affair with the married actor.
"She told me once that he was by far the number one celebrity she'd like to have sex with," said the insider, who knows Jones extremely well.
Article continues below advertisement
"And she is totally the type to do it."
RadarOnline.com has also obtained some never-before-seen photos of Jones who has since hired a manager and publicist in the wake of the scandal.
Star Magazine was first to report the Kutcher's cheating scandal, revealing how Jones first met the actor, 32, in July at Lucky Strike Lanes in Hollywood.
Kutcher was there with wife Demi Moore, 47, her daughter Rumer Willis and some friends.
According to Jones, Kutcher struck up a conversation with her and despite knowing he was there with his wife, she slipped him her number on a cocktail napkin as he was getting ready to go.
A few days later, Jones said the actor brought her back to the sprawling Hollywood mansion he shares with Moore.
They had sex on the couch while Moore was in Detriot shooting a movie.
"It was tender and nice," she recalled, "not some random sex act."
Article continues below advertisement
Kutcher and Moore, who are separated by a 15-year age gap, celebrate their fifth anniversary later this month.
While most consider Moore to be one of the most beautiful women in the world, there's no escaping the fact that Jones, 21, is half her age.
Earlier this month Moore recently posted a picture of herself in a sexy bikini on her Twitter page which sparked curiosity about the message she seemed to be sending: stay away from my man!
For the record, Kutcher has publicly denied cheating.
But the source who spoke to RadarOnline.com insisted Jones is telling the truth about her steamy affair with Kutcher.
"I believe she did it," the insider told RadarOnline.com.
"I've known Brittney for a while and her family is the same way.
"They're all gold diggers... she probably took one look at Ashton and saw dollar signs."
RELATED STORIES: