Exclusive
Paris Hilton Dumped By Boyfriend DJ AfroJack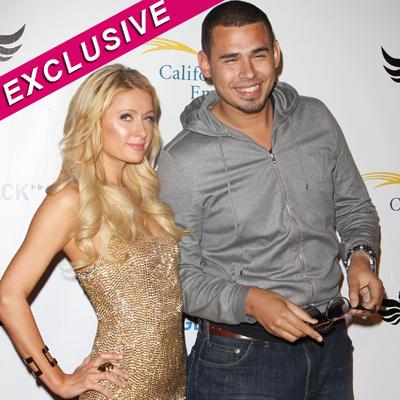 Wow, that was quick!
Paris Hilton and DJ AfroJack have called it quits after dating for around six months, RadarOnline.com is exclusively reporting.
"Afrojack had moved into Paris' Beverly Hills mansion earlier this year, and the two got very serious, very fast," a source close to the former couple tells RadarOnline.com. "Paris was really into him and admires the work he has done. Afrojack did a lot of the work on Paris' new album which will be released later this year. He took a lot of criticism for working with her, but he truly does believe that she has talent. Paris was smitten with him, but Afrojack just wanted to have fun and not be exclusive with anyone. He is on the road practically every day performing in clubs all over the world, and he just isn't ready to settle down, whereas Paris is."
Article continues below advertisement
As RadarOnline.com previously reported, 31, is working on completing a second follow up album six years after the release of her first one which sold only 197,000 copes. Paris has been focusing "all of her creative energy into her second album," a source close to the former reality star says.
"Paris has been working with Flo Rida, LMFAO and David Guetta, and the album should be released this summer," a source previously told RadarOnline.com. "Paris hopes to embark on a European concert tour to promote the album, which will consist of house music. She knows she has a lot riding on this project because her last reality show was canceled and she needs to do something to re-invent herself. Paris is hoping to appeal to a broader fan base and would love to use the album as a platform for a possible project with MTV. Yes, Paris is a very successful businesswoman, and she is about to release her fifteenth fragrance, but that isn't enough for her. Paris craves the attention from the media and her fans and she is truly feeling the pressure to deliver on this, because she doesn't have any other television or movie projects lined up."
Meanwhile, Paris is likely to take her recent breakup hard, as friends of the socialite tell us, "Paris is having a hard time adjusting to the fact that she just doesn't have the popularity or cache that she did five years ago. Paris has tons of money, but that isn't enough for her. Look, she is still going to clubs on a very frequent basis and she is 31 years old. You don't see a lot of people over 30 going to clubs, it's almost sad to see. Paris would love to be married with kids, it's all she ever talks about, but she hasn't found her Prince Charming yet and she isn't getting any younger."