Brandi Glanville Goes On New Twitter Rant About Kristen Stewart Affair, Says Director To Blame Too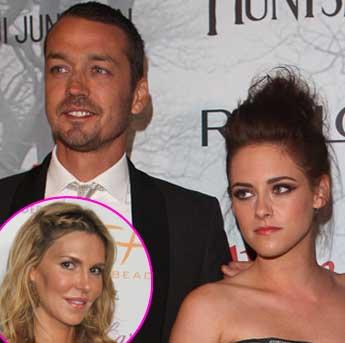 Brandi Glanville has taken to Twitter in an expletive riddled tirade about the Kristen Stewart affair saying that the young starlet has done a bad thing – but isn't the only one to blame.
The Real Housewives of Beverly Hills star had earlier said that she wasn't happy about the Twilight actress's fling with married director Rupert Sanders because it hit "too close to home."
But Brandi wants to make sure that the Snow White and the Huntsman filmmaker gets a good part of the blame too and be held equally as responsible as the young starlet whose reputation has taken a bashing since photos surfaced of her kissing and caressing the 41-year-old father-of-two.
Article continues below advertisement
"F**k people I have always said it take to and a man can't be stolen he has to want to leave," Brandi wrote on the social networking site.
"Home-wreckers come in PAIRS now F**K OFF." (sic)
Like Brandi's situation when her former husband Eddie Cibrian had an affair and subsequently left her for country singer LeAnn Rimes after meeting on a movie set, Sanders' wife Liberty Ross was busy looking after their two children while Kristen and the director had their illicit liaisons.
MORE ON:
hollywood happenings
Stewart and her on and off-screen boyfriend Robert Pattinson have already split up as a result of the scandal. Like Kristen, Sanders also issued a public apology for hurting his family. It's not known if his wife has accepted it.
As RadarOnline.com previously reported, Sanders' brother-in-law Leopold Ross has claimed that the affair was not just a "momentary indiscretion" as Kristen has proclaimed but had been going on for months.