Exclusive
Charlize Theron Furious With Co-Star Kristen Stewart Over Affair With Married Director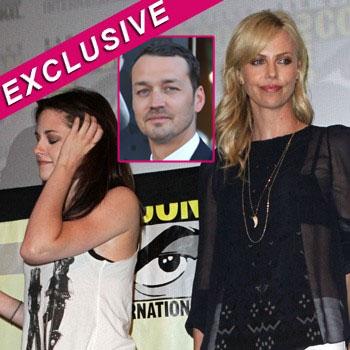 Article continues below advertisement
"Charlize is absolutely fuming with Kristen for having an affair with Rupert," an insider revealed.
"She is very tight with Liberty, has often socialized with the family over dinner and cannot believe Kristin has done this.
"When they were filming Snow White and the Huntsman, Charlize felt like an older sister to Kristin, and they were always sharing advice.
"Charlize confided to her new pal about her adoption plans. She even asked Kristin if she wanted to be her baby Jackson's godmother – that was how close they were.
"But Charlize had no idea what was going on between Rupert and Kristin and now feels completely betrayed by the whole incident.
"It's certainly left Charlize between a rock and a hard place, because she feels great sympathy for Liberty and the kids and yet, she has a sisterly love for Kristin.
PHOTO: Kristen Stewart Poses In Drag For Elle
As Radaronline.com previously reported, Stewart issued a public apology to boyfriend Robert Pattinson on Wednesday where she called the illicit affair a "momentary indiscretion."
Article continues below advertisement
"I'm deeply sorry for the hurt and embarrassment I've caused to those close to me and everyone this has affected. This momentary indiscretion has jeopardized the most important thing in my life, the person I love and respect the most, Rob. I love him, I love him, I'm so sorry," Stewart said in a statement.
The damage control comments come in light of a published report that claims the Twilight Saga star and the 41-year-old filmmaker could hardly keep their hands off one another as they traveled around Los Angeles together on July 17, and a series of photos confirms the affair, showing them in a number of steamy clinches.