New Photos Of Kristen Stewart & Married Director Debunk Claims Of 'Momentary Indiscretion'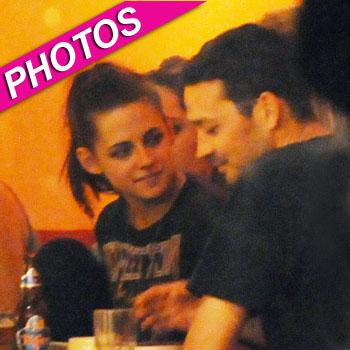 Article continues below advertisement
After posing with his wife, Liberty Ross, on the red carpet for the May 14 London premiere of the movie, she was noticeably absent for the Germany premiere and Rupert appeared to be enjoying the attention at dinner from Kristen the next night.
The 22-year-old actress and 41-year-old married father of two were spotted by an eyewitness on July 17, unable to keep their hands off each other and a series of photos were published of them in romantic embraces, forcing them to publicly address the affair.
On Wednesday the Twilight actress released a statement in an effort to save her relationship with Robert Pattinson saying, "I'm deeply sorry for the hurt and embarrassment I've caused to those close to me and everyone this has affected. This momentary indiscretion has jeopardized the most important thing in my life, the person I love and respect the most, Rob. I love him, I love him, I'm so sorry."
Article continues below advertisement
While no apology was made to Rupert's wife, RadarOnline.com has exclusively learned Kristen is writing a letter directly to her to say how sorry she is.
"Kristen didn't feel it was appropriate to issue a public apology to Liberty once the story of her affair with Rupert broke," a source close to the situation said.
"Instead, she's going to do the decent thing and write Liberty a private letter expressing her deepest regret for her actions. She was thinking of including Liberty, Rupert and the kids in her public apology – but Kristen was so desperate to save her relationship with Rob she decided to concentrate on that first."