Brandi Glanville Apologizes For Shocking Joke About Young Man's Suicide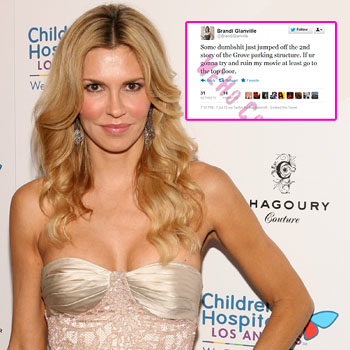 She's no stranger to controversy, but Brandi Glanville went too far when she tweeted a 'joke' about a young man who committed suicide over the weekend.
The Real Housewives of Beverly Hills star wrote the shocking message on Sunday after the 29-year-old threw himself off the seventh floor of the parking structure at The Grove mall in Hollywood.
Eddie Cibrian's ex was on her way to watch the movie Magic Mike at the upscale complex and wrote: "Some dumbsh*t just jumped off the 2nd story(sic) of the Grove parking structure. If you're going to try and ruin my movie at least go to the top floor."
Article continues below advertisement
As well as leaving a family devastated, the gruesome incident was also witnessed by many people, including young children, who were left understandably horrified and distraught.
When the reality star realized that the man had died, she removed the tweet, but not before it was captured by Weho Confidential.
She later released an apology: "Oh man the guy at the grove that jumped didn't make it. I feel bad, it's awful, condolences to his family. I wish I hadn't joked about it."
She was of course criticized, one follower wrote: "You don't give hope to those who are bullied and feel depressed who take their lives. Try and have a heart and care."
Brandi fired back: "It was an inappropriate joke, peeps at theater said he was fine, didn't have all the info, although suicide is a very selfish thing.
"He is selfish. We were told he was fine. Unfollow me and stop cyber bullying."
RELATED STORIES: