Raunch Rules At The Box Office: 'Ted' And 'Magic Mike' Explode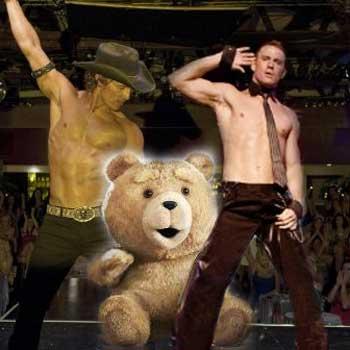 A foul mouth Teddy Bear and a bunch of nearly nude male strippers rocked the box office this weekend. It's the first time in history that two R-rated movies have opened with more than $20 million in ticket sales the same weekend.
Ted, with human stars Mark Wahlberg and Mila Kunis, came in first with a sizzling $54.1 million.
Magic Mike, with Matthew McConaughey, Channing Tatum, Alex Pettyfer, Joe Manganiello and Matt Bomer all grinding their six-pack abs, was almost as hot with $39.4 million. The movie is loosely based on Channing's real-life experience as a stripper before he became an actor.
Article continues below advertisement