Exclusive
Brandi Glanville: 'I'm Not A Mean Girl, I'm A Victim!'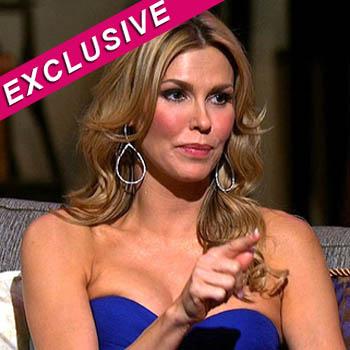 Article continues below advertisement
However, Glanville is now going on the defensive and insisting that Taylor Armstrong and the other ladies of the 90210 are jealous of her and making her life hell.
"Brandi is a very smart girl, and when the cameras start rolling, she really turns on the waterworks. Brandi is now claiming that Taylor is insanely jealous of her and making her life hell. Brandi is turning out to be one great actress because when the cameras stop rolling she is a completely different person. Brandi and Taylor both have been drinking a lot when filming. Brandi says she is drinking to cope with all of the ongoing drama, but she is the one who is stirring it up. Brandi is accusing Taylor and Kyle of talking about her behind her back and spreading rumors about her," a Bravo insider told RadarOnline.com exclusively.
Jumping to Brandi's defense is Lisa Vanderpump, "who inserts herself into every situation. Lisa says she doesn't have time for the drama, or doesn't want to get involved. Yet Lisa always seems to be at the center, which she loves. For anyone to believe that Brandi is a victim is ridiculous, she is a very smart and strong girl, she is absolutely no shrinking violet. Brandi was very smart to align herself with Lisa because she is so close to Bravo executive, Andy Cohen. Brandi would love to have her own spin-off show, just like Lisa," the source says.
Article continues below advertisement
Glanville recently revealed in an interview with Australia's NW HQ magazine that she once felt like killing Cibrian's new wife LeAnn Rimes after the country singer surfaced at one of her son's soccer practices!
"I remember walking up to soccer practice and there she was with my baby in her lap," Brandi -- who has two sons with Eddie, Mason and Jake -- told the magazine. "My blood was boiling, and I thought I was going to kill her. I really thought I was going to physically hurt her. But that was the first time I saw her that way. She was sitting in my soccer chair, under my tent, she's got my kid on her lap, and she's with my husband, and that was that little moment of total irrational fury."