Exclusive
Lisa Vanderpump & Brandi Glanville's 'Diva Behavior' Is Disrupting Filming Of The Real Housewives Of Beverly Hills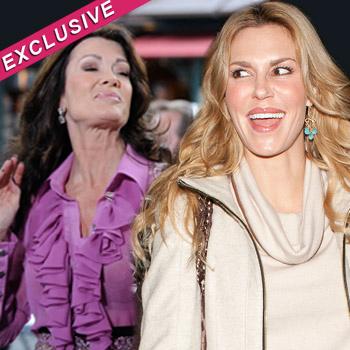 RadarOnline.com Assistant Managing Editor
Two of The Real Housewives of Beverly Hills stars, Lisa Vanderpump and Brandi Glanville, are acting like divas and are disrupting filming of the show, and their fellow cast mates are not happy about it, RadarOnline.com is exclusively reporting.
As we previously reported, the claws were already out before filming began for the third season of the hit Bravo reality show because Vanderpump was given a spin-off show on Bravo, based on one of the restaurants, Sur, located in West Hollywood.
Article continues below advertisement
After telling fellow cast members during the second season to shun Glanville because she was friend's with Cedric, a one-time family friend of Vanderpump's, the two "are absolutely joined at the hip this year.
It's absolutely bizarre because Lisa told the other ladies to not talk to Brandi at all when she first joined the show last year. Lisa was livid because Brandi was friends with Cedric, and she thought she could just freeze out Brandi, and that if she did so, the other ladies would follow. Towards the end of the second season, Brandi and Lisa did begin to get along. However, during the current season, Lisa, who always likes to act like the mother hen of the show, has taken Brandi under her wing, and the two are now inseparable. The two have such huge ego's, and their antics are driving the other ladies, especially Kyle and Taylor, absolutely nuts," a show insider tells us.
Brandi Glanville has become a "mean girl" of the hit Bravo reality. "She just doesn't seem to be in a good place right now, and she has been definitely hitting the bottle a lot harder this year during filming, which is cause for concern. Brandi becomes much more aggressive when she drinks, and she is turning into the new mean girl on the show. It's hard to tell if it's the alcohol that is the cause for the drastic mood changes, if it's just Brandi trying to be provocative, or if she feels pressure to act a certain way during filming," the source says.
Article continues below advertisement
The ladies of the 90210 "definitely want to confront both Brandi and Lisa about their behavior, especially Lisa's. However, they are afraid to do so because Lisa is extremely good friend's with Bravo executive, Andy Cohen, and she is always bragging about their relationship. Lisa just hosted a book party for Andy's new book at Sur recently, and she was laying it on thick leading up to the party. Lisa is a very smart businesswoman, and aligned herself very early on with the key executives at Bravo, and at the production company of the show, and she has leveraged that to get her own t.v. show. The thing about Lisa is that she always presents herself as being diplomatic and doesn't have time for drama or controversy, which is absolutely laughable because she is the one stirring it up! This year she is just using Brandi to do her dirty work. Brandi should be very careful because Lisa will turn on her, it's only a matter of time," the insider said.