Exclusive
Inside The Booze Fueled, Drama & Fight Packed Housewives Vegas Trip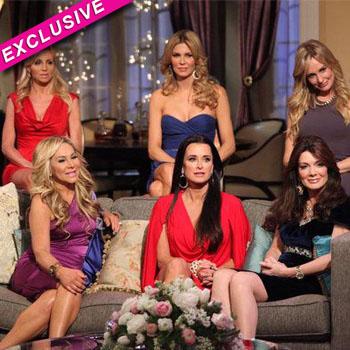 Article continues below advertisement
Brandi, Lisa Vanderpump, Kyle Richards, Yolanda Hadid and Camille Grammer were all along for the ride, but noticeably absent were Taylor Armstrong and Adrienne Maloof, the latter of which was unable to go because of a prior commitment.
"The ladies were bickering and going at each other's throats from the moment they left Los Angeles and didn't stop until their private jet brought them back home," a show insider tells RadarOnline.com. "Brandi appeared to be under the influence of alcohol the entire time and was acting pretty outrageously. There is a lot of bad blood right now among everyone, and it all came out during the trip. Brandi has gone after Adrienne with a vengeance this season because Brandi is now really chummy with Lisa, and Adrienne and Lisa just don't get along.
"Even though Adrienne didn't go to Las Vegas, Brandi kept bringing her name up and trashing her, and it just wasn't necessary. Lisa and Brandi are just out of control this season with the bitchiness, and viewers are going to be shocked when they see their behavior on camera."
As RadarOnline.com previously reported, despite being one of the main protagonists when it comes to the bitching, on the plane ride home Vanderpump wound up in tears because of all the angst.
Article continues below advertisement
"None of the women had ever seen Lisa cry like that and they were completely in shock. Kyle felt awful and was doing everything she could to comfort her," a source previously told RadarOnline.com.
Meanwhile, another source previously revealed that Hadid's mellow nature is making for far from captivating TV.
"The other ladies are clashing with each other all the time, there are a lot of crazy emotions involved, but Yolanda isn't causing any drama or adding any drama -- she is a bore!"