Exclusive
'Real Housewives' Lisa Vanderpump & Brandi Glanville Feuding With Adrienne Maloof!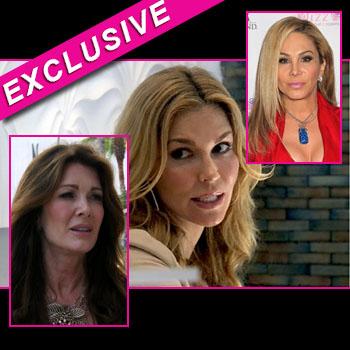 Article continues below advertisement
Maloof decided "not to go to Paris because she just didn't want to be in a foreign country with Lisa and Brandi. Brandi has been picking fights with Adrienne, and she was just completely over the drama. It got so bad, that Adrienne had her lawyer send a cease and desist letter to Brandi because of the outrageous things she was saying. Brandi was way out of bounds, and now she has been saying that Adrienne is suing her. It hasn't come to that, Adrienne's lawyer only sent a cease and desist letter. Brandi had to discuss that with everyone and embellish the facts, and Adrienne is beyond frustrated with the situation," a show insider tells us.
Meanwhile, Vanderpump "has been encouraging Brandi to fight with Adrienne. Brandi doesn't see that she is being used by Lisa to go after Adrienne. Lisa is a smart cookie because she never gets her hands dirty, and has Brandi do all of her dirty work. Brandi is more than happy to oblige because she will be featured on Lisa's Bravo spin-off show, Sur," the source tells us.
The third season of The Real Housewives of Beverly Hills will air on Bravo this fall.