Exclusive
Sacre Bleu! The Beverly Hills Housewives Are Taking Their Drama To Paris!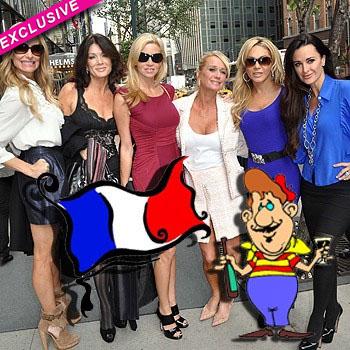 Article continues below advertisement
Most recently, the cast was in Las Vegas to shoot a special episode of the show. Eddie Cibrian's ex-wife, Brandi Glanville, was taking pole dancing lessons in preparation for a sexy new gig hosting bachelorette parties. During the disastrous trip to Ojai, Taylor Armstrong had a "catastrophic meltdown" during the weekend spa getaway because she was heavily intoxicated the entire trip!
Lisa Vanderpump, Brandi Glanville, Kyle Richards and Yolanda Hadid are all Europe bound, with Taylor Armstrong still on the fence when it comes to joining the ladies or not.
"Taylor is still trying to decide whether or not she wants to go," a source close to the situation tells RadarOnline.com. "Taylor is just acting very sneaky and secretive recently. It's almost as if she is trying to create some mystery around her. Adrienne Maloof decided not to go because the other girls keep ganging up on her, and it just got to the point of being utterly ridiculous. Kim Richards most likely won't go even though the other ladies want her to, because she just wants to spend time with her kids. Kim doesn't feel quite strong enough yet to go overseas and wants to put her sobriety first."