Teacher Led Bullying Incident 'Of Epic Proportions' Against 13-Year-Old Boy Caught On Camera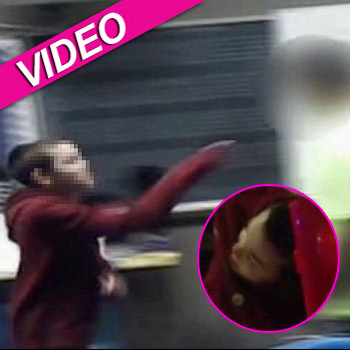 By Debbie Emery - RadarOnline.com Reporter
A middle school teacher was caught on camera embarking on a bullying tirade against one of his students, and the victim's parents are now hoping the sickening video of the attack will lead to criminal charges.
John Rosi not only didn't try to stop the cruel act against the eighth-grader at the Kopachuck Middle School in Gig Harbor, Washington last February, he even gleefully joined in, reported the News Tribune.
Article continues below advertisement
During the 15-minute attack that was caught on many pupils' camera phones, a dozen classmates dragged the smaller boy around the room, holding him like a hammock, peeling off his socks, writing on his feet, stuffing a sock in his mouth, holding a pillow over his face and covering him with a chair.
Rosi can be seen smiling for the camera and encourages the bullies by poking the boy in the stomach and then pretends to sit on him, crassly pointing his butt toward the boy's face and saying, "I'm feeling kind of gassy."
After authorities were made aware of the incident last spring, the teacher, a 14-year veteran of the Peninsula School District, was suspended for 10 days and shifted out of Kopachuck classrooms, according to the terms of an agreement signed in April of this year.
He now works in a different school, but the boy's parents do not think the punishment fits the crime and they are demanding a criminal investigation.
Article continues below advertisement
"(Rosi) is completely ignorant of the fact that he's got a whole classroom hazing one kid," his father told the News Tribune. "They classified it as roughhousing. But it's not 14 kids wrestling each other. It's a dozen kids using my son to demonstrate their dominance over him."
An attorney for the family, Joan Mell, described it to KIRO 7 as "a teacher-led bullying incident of epic proportions."
The victim's father revealed how his son was so traumatized by the vicious taunting that he even considered suicide. The boy is now attending a private school and receiving therapeutic counseling. "He told me, 'I want to die. I want to kill myself,'" said the distraught dad.
In a letter to district investigators in February, Rosi apologized but said he did not "view the incident as anything more than harmless childhood horse play and a chance for the kids to take a break from the daily grind."
But his weak excuse is not good enough to placate the family or their lawyer. "It was no horseplay because there was no play going on," Mell said.
The sheriff's office is now investigating and the Peninsula School District said they will cooperate, despite not reporting the incident at the time.