Shocking Video: Boys Bully 68-Year-Old Bus Monitor, Calling Her Fat & Making Graphic Sexual Comments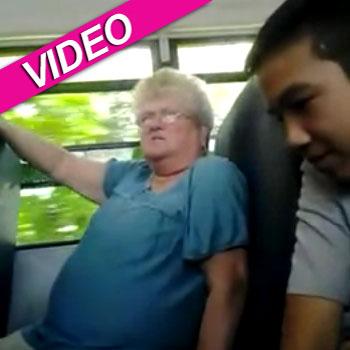 WARNING: Content Is Disturbing And Contains Profanity
Police and school authorities in Rochester New York Thursday will hold a news conference in the investigation of four middle school students who taped themselves relentlessly bullying a 68-year-old bus monitor named Karen Klein as the video has gone viral, spurring a campaign to raise money for the victim.
In the clip -- which had more than 1.2 million Youtube hits in less than two days -- the four boys demean a sobbing Klein with insults about her weight, make graphic sexual comments, threaten her, call her poor and physically assault her with a book briefly.
Article continues below advertisement
"I tried to ignore it ... I didn't hear some stuff and tried to shut them out," Klein, who works for the Greece Central School District, told WHAM Wednesday.
Klein -- whose son committed suicide 10 years ago -- said the most stinging comment was when one of the boys told her that her family "all killed themselves because they didn't want to be near you."
Klein told the Democrat and Chronicle newspaper she doesn't wish for the boys to be charged with a crime, but perhaps "grounded all summer, or maybe all year."
Watch the video on RadarOnline.com (WARNING: Content Is Disturbing & Contains Profanity)
The Greece Central School District said in a statement: "While we cannot comment on specific student discipline, we can say that students found to be involved will face strong disciplinary action. Although their behavior was inexcusable, we also have concern for the safety of all involved. We urge patience to allow us to investigate and determine the appropriate discipline."
Article continues below advertisement
At least some good has come out of the incident, in the form of Internet Samaritans who had raised almost $120,000 Thursday to give Klein a well-deserved vacation.