Katy Perry Punches Prince Charming (Russell Brand?) In New Video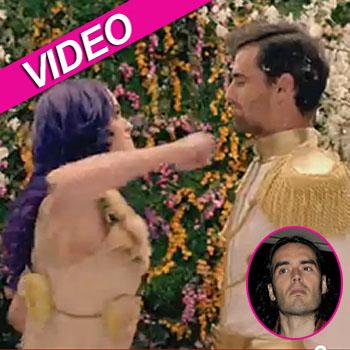 Katy Perry's letting her music do the talking -- and the punching.
While the singer's stayed relatively mum about her split with Russell Brand, her new fairy tale-inspired video Wide Awake speaks volumes to where her head is about the break-up, especially the part where she punches Prince Charming!
The video, which debuted Tuesday night, had almost 650,000 views early Wednesday. In it, Katy appears to be smitten by the Prince Charming. When he leans in for a kiss, she notices he's got his fingers crossed behind his back, leading to her punching him in the face.
Article continues below advertisement
As we previously reported, Brand filed for divorce from Perry December 30 following a 14-month marriage which began with a lavish India wedding.
Speaking with Ellen DeGeneres about the split last month, the Get Him To The Greek star said, "I still love her as a human being. But, sometimes when you're in a relationship I suppose it doesn't work out, does it? But that doesn't mean I regret it or anything. I was very happy to be married with her.
"She's such a beautiful human being and I just have only love and positivity for her."
In her chat with Ellen, Katy cryptically said, "I think sometimes people think that we're perfect, and we know we're not perfect, at all."
Watch the video on RadarOnline.com
Lately, Katy's been seen with Robert Ackroyd, a guitarist for the band Florence + The Machine, while Russell's been taking up with stunning model-artist Oriela Medellin.