Russell Brand Steps Out With New Gal Pal, Gets In Fender Bender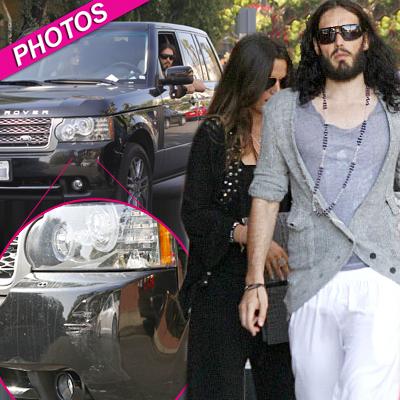 Russell Brand looks to have found love again, but it wasn't all fun and games this weekend; the British funnyman also apparently got into a minor fender bender with a young man as evident from some scratches on his car.
Brand -- and his new gal pal, Mexican-born artist Oriela Medellin Amieiro -- were spotted shopping at West Hollywood's Crystalarium on Sunday.
The Get Him To The Greek star, 36, reportedly met his new lady love, 25, attending Yoga classes in Los Angeles. She was seen leaving his Beverly Hills pad following an overnight visit last week.
Article continues below advertisement
Amieiro might want to keep an eye on Brand if they're serious: The then-engaged comic bragged on The View two years ago about how, when he was single, he'd made love to five women at a single time.
Got Crack? Single Russell Brand Bums Around Hollywood
"It was exhausting -- it's like spinning plates!" he joked.
Russell Brand Moves Into $2 Million Bachelor Pad: Take A Peek Inside
Brand filed for divorce December 30 following a 14-month marriage which began with a lavish India wedding.