2012 Grammy Awards: Katy Perry Sparks Speculation She Swiped At Ex Russell Brand In Song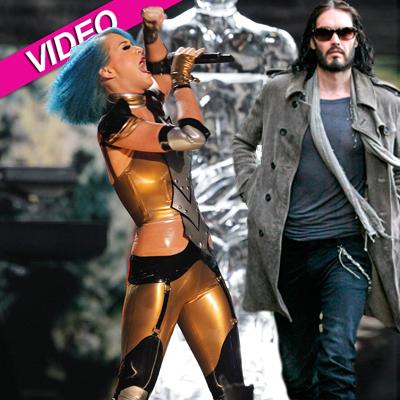 Katy Perry, in her performance at Sunday's 54th annual Grammy Awards from the Staples Center in Los Angeles, might have taken a swipe at her ex-hubby Russell Brand through song.
Singing her new single Part of Me, Perry -- clad in a sexy, spacesuit-like silver-and-gold ensemble -- belted out lyrics that might, or might not, have referred to her 14-month-long marriage, and subsequent split, from the Get Him To The Greek star.
Article continues below advertisement
2012 Grammy Awards: Full list of winners
Perry -- who left the show empty-handed -- sang lyrics such as,
"You chewed me up and spit me out/Like I was poison in your mouth/You took my light, you drained me down ... You ripped me off, your love was cheap."
In one instance, she reportedly changed a line in the song, from "You can keep the dog from me/I never liked him anyway" to "Keep your diamond ring/In fact, you can keep everything ... except for me."