Stars Tweet Memorials To Whitney Houston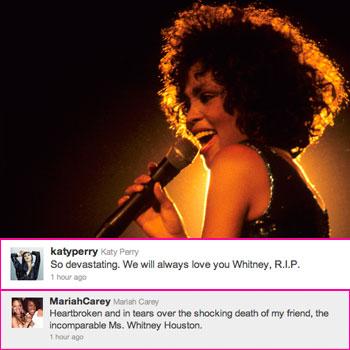 Stars such as Mariah Carey, Katy Perry and Ricky Martin have taken to Twitter in memory of the late Whitney Houston, who was found dead at 48 Saturday at the Beverly Hilton Hotel, and RadarOnline.com has a comprehensive recap for you.
Among the celebs tweeting their memorials:
Mariah Carey: "Heartbroken and in tears over the shocking death of my friend, the incomparable Ms. Whitney Houston. She will never be forgotten as one of the greatest voices to ever grace the earth. My heartfelt condolences to Whitney's family and to all her millions of fans throughout the world."
Article continues below advertisement
Justin Bieber: :just heard the news. so crazy. One of the GREATEST VOICES EVER just passed. RIP Whitney Houston. My prayers go out to her friends and family."
Katy Perry: "So devastating. We will always love you Whitney, R.I.P."
Ricky Martin: "RIP Whitney Houston. Sending my love and deepest condolences to her family and friends. Fly Whitney Fly."
Ryan Seacrest: "At Grammys rehearsal hearing Whitney Houston has passed away at 48. Everyone here is absolutely stunned."
Khloé Kardashian Odom: "Just heard Whitney Houston passed away many prayers go out to her family and all who are grieving the loss of an icon. So sad... RIP."
Kourtney Kardashian: "Wow! I just heard of Whitney Houston's passing. My heart and prayers go out to her daughter. She will always be remembered. Very tragic."
Paris Hilton: "So sad to hear the news about Whitney Houston. She was such a beautiful and talented woman. My heart goes out to her family. RIP."
Article continues below advertisement
Snooki: "Omg. #RIPWhitneyHouston #legend."
Paula Abdul: "I am devastated. I am absolutely devastated at the news about Whitney Houston. Such a tragic, tragic loss."
LeAnn Rimes Cibrian: "Seems like we are losing the great ones all to soon. RIP Whitney, how horribly sad."
Nick Cannon: "To be absent from the body is to be present with the Lord RIP to Whitney Houston a true queen."
Ciara: "RIP Whitney Houston. A Legend lost:( Her voice was insurmountable, her smile was illuminating, she was truly one of a kind and a huge(cont) inspiration to me. She has always had sweet and fun words to say to me. I will cherish the moment I was able to share (cont) with her, forever. This is truly unbelievable. My prayers and condolences to her family at this sad time."
Randy Jackson: "wow I am devastated. the world has lost another one of the best voices in history. RIP whitney houston, so fortunate a…"
Lea Michele: "I'm speechless. Such sad news about Whitney Houston.."
Robin Quivers: "Whitney, we missed you even before you were gone. RIP."
Amber Rose: "Today is my Moms birthday and her Hero just passed away we feel like she was a part of our family. RIP Whitney we Love u."
Article continues below advertisement