Exclusive
PHOTOS: Drunk Bobby Brown Passed Out On Plane, Says Witness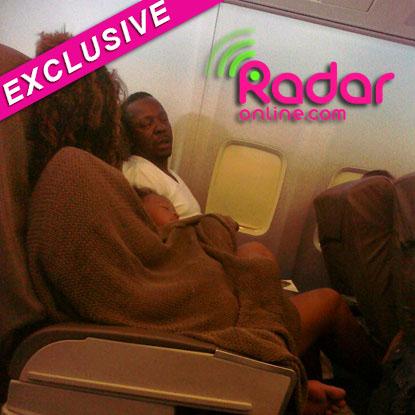 Bobby Brown took a flight on Tuesday from Aruba to Miami, but he might not remember it!
According to an eyewitness, Bobby was traveling with his wife Alicia Etheridge and son Cassius, but became so intoxicated before boarding he almost didn't make his flight.
"It was obvious in the terminal that he'd been drinking a lot. He was staggering and several of his family members had to hold him up in order to board the flight," Brian Brown (no relation), who was taking the same flight, exclusively told RadarOnline.com.
Article continues below advertisement
"Security had to check his sobriety and kept him at the jet bridge entrance until finally letting him board."
RadarOnline.com also obtained exclusive photos of the R&B singer passed out during his American Airlines flight.
"He reeked of alcohol and his wife had to help him recline his seat," Brian said.
"He was passed out for almost the entire three hour flight!"
Bobby, 42, has recently declared that he's "six years sober from drugs," but it seems the same cannot be said for alcohol.
Just last month Bobby's ex-wife, Whitney Houston, began out-patient rehab treatment for her long-time addiction to drugs, and Bobby said he was fearful "she might not pull through."
Bobby has struggled with substance abuse since the early 90's and in 2004 he was arrested in Georgia for a parole violation on a past drunk driving conviction.
RELATED STORIES: