Alec Baldwin: 'I Don't Deck Photographers Willy-Nilly!'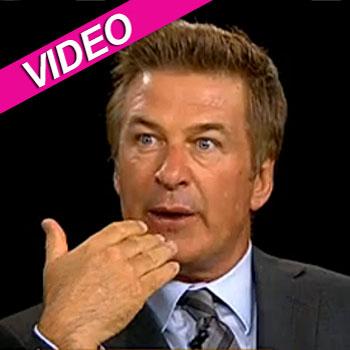 Hours after Alec Baldwin was photographed in a confrontation with a photographer in Manhattan on Tuesday, he went on television to defend his actions.
The 30 Rock star -- talking with CBS This Morning co-host Charlie Rose on his PBS program Tuesday night -- said he was merely protecting himself from an overly aggressive photographer, who he says, has repeatedly harassed him in the past.
Article continues below advertisement
Said Baldwin, "The guy - there was a person in front of me and he was blocking him. And the guy lunged and almost hit me in the teeth with the lens of the camera. So I just pushed the guy away. But of course they all make it like I - my favorite line was from (the movie) 'John Malkovich' - '(The paparazzi) all screamed like they're political prisoners,' he said."
"People think I'm out there just decking photographers willy-nilly. Nothing could be further from the truth," he added.
As for the photographer, he claims that Baldwin was the aggressor, and that the actor punched him, forcing him to go to the hospital to receive pain medication. He says he's suffering from a pain in the head and dizziness.
Baldwin was at the courthouse with his fiancée to get a marriage license. During his interview with Rose, the Rock of Ages star noted that there were plenty of cops nearby, saying, "I'm dumb, but not that dumb."
Article continues below advertisement
Watch the video on RadarOnline.com
Baldwin said public figures make appointments with the press. "We make ourselves available as an obligation per our contract to our employers to represent the product and help to sell the product. And then when I walk out the door, that's over," he said. "When the guy jumps out of the bushes with a camera and tries to take a picture of my kid, they want to say to you, 'Well, here's another appointment you have with the press.'"