Now That's Not Very Christian! Woman With 'GOD' Face Tattoo Arrested For Stalking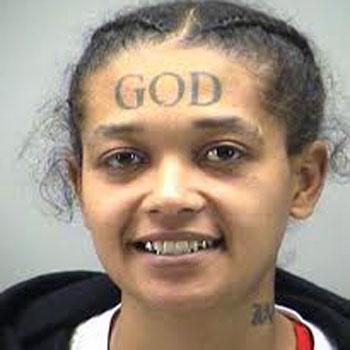 Some people wear their faith on their sleeve, but an Ohio woman has gone one step further, tattooing the Almighty's name across her forehead in huge letters.
It seems though that Jamie Calloway has a few issues when it comes to following the basic tenants of Christianity, as evidenced by her most recent arrest, for stalking a corrections officer she had met during her last incarceration.
Article continues below advertisement
The 33-year-old was arrested and booked into the Montgomery County jail Sunday night on a misdemeanor charge of menacing by stalking, reported the Smoking Gun.
Calloway has a rap sheet that dates back more than a decade and includes arrests for obstruction, criminal damage, domestic violence, theft, trespass, aggravated menacing, and drug possession.
Her latest brush with the law occurred after Calloway took "a liking" to a female corrections officer during her last jail stint. According to a Montgomery County Sheriff's Office spokesperson, Calloway allegedly slashed the woman's tires, sent her packages in the mail and repeatedly called her home.
MORE ON:
Celebrity Justice