Accused Alec Baldwin Stalker Says They Had Sex, She Wanted His Child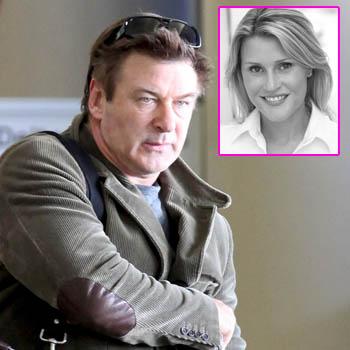 Genevieve Sabourin, the 40-year-old Canadian actress accused of stalking and harassing Alec Baldwin, claims she and the 30 Rock star made love and that she wanted to have a child with him, according to sources close to the situation.
Sabourin "said she and Alex had sex and she wanted to have his baby," a source told the NY Post, adding Baldwin acknowledges having dinner with the Montreal native twice last year, but says he kept things "strictly professional" with no "physical relationship" between them.
Article continues below advertisement
A separate source told the paper Sabourin's "claiming that she and Alec were lovers.''
Sabourin was released with no bail Monday following a hearing at Manhattan Supreme Court, where a judge issued Baldwin a temporary order of protection from her.
"As everyone knows, stalking is a serious issue," Baldwin's rep Matthew Hiltzik told the AP. "So we've turned this matter over to the New York Police Department."
As we previously reported, police said Sabourin's unwanted contact with the actor, 54, began in the form of emails and text messages with romantic overtures, as well as requests for financial help.
On March 31, Baldwin filed a complaint after Sabourin showed up at his Hamptons home. Days later, she trailed Baldwin at a Lincoln Center Q&A and was arrested Sunday after trying to access his Manhattan home via the doorman.
Article continues below advertisement
Baldwin on April 2 announced his engagement to gorgeous 28-year-old yoga instructor Hilaria Thomas, which reportedly triggered Sabourin's aggressiveness toward contacting the Glengarry Glen Ross star.
On April 4, the NY Post reported, Sabourin emailed Baldwin with the message, "I need to start my new life, with my new name...in my new country help me my newly sic husband, you! Please Alec come and pick me up now. I am less than 10 min away from you tonight. Say I do to me.''
A source told the paper Sabourin's endless phone calls caused the actor to "shut his phone down" and get a new number.
According to Sabourin's iMDb page, she worked with Baldwin on the 2002 film The Adventures of Pluto Nash, where he had a small role while she worked in the film's public relations department.
She also appeared in 2002's Swindle and 2004's Eternal. Her last acting work came in 2007, the website reported.