Exclusive
Father Of Bullied Autistic Boy Says He'll 'Fight Teacher In Court' If She Takes Legal Action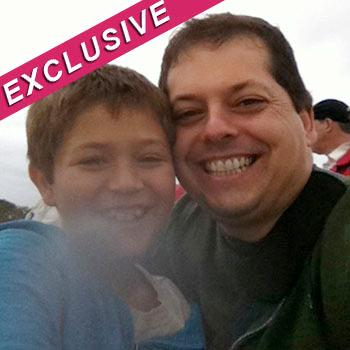 Article continues below advertisement
"If she wants to come after me I will respond vigorously," Chaifetz told RadarOnline.com in an exclusive interview. "I said all along that I was not interested in filing a lawsuit, I will not sue the school. I was not going to sue the teacher or the aide, but if they are saying they are hiring a lawyer to send a message to me, then I will send it right back."
"I would have a lot to say about it in a court of law if that is what they are trying to do. You bullied a 10-year-old boy, you can now face a 44-year-old man."
As RadarOnline.com previously reported, Chaifetz suspected his son, Akian Chaifetz, was being picked on at the Horace Mann Elementary School so he sent him to class one day last February with a voice recorder hidden in his pocket.
The resulting six-and-a-half hour tape revealed the teacher and her aide teasing the boy, chastising him, having an inappropriate discussion within his earshot, and calling him a "b*****d."
Article continues below advertisement
After the school board announced that both Altenburg and her aide, Jodi Sgouros, no longer worked in the district, Chaifetz responded by revealing the information that Kelly was now working as a teacher at Cherry High School West and told the world about it on YouTube.
"She was an elementary school teacher, how did she get a high school job? I had to defend myself because the board said I was a liar and that what I was saying wasn't true, so I proved it was by playing her voicemail greeting.
"I gave the school two months to deal with it and they didn't. I am not at war with the district, but pretend that is your child crying and not my son. Wouldn't you want someone fired?"
Chaifetz believes that it is an issue of tenure so that they can't fire her easily, but they should at least be honest about it. "I don't think they want to keep her, I am not blaming the school district although I am sure they hate my guts. It is probably some other rule or regulation but those rules have fueled my son's abuse."
Article continues below advertisement
As for Altenburg, the distraught dad would love to talk to her face-to-face. "I'm happy to give her an opportunity for her to explain why she acted like that in the room.
"'Why did you laugh instead of protecting him like you should have?'" he wants to ask. "'Why do you think it is fun to laugh at a boy with autism?'
"The act was of total cowardice and disgrace. I believe it was her calling him a b*****d, if it wasn't then why would she let that happen in her classroom?"
Akian had been in Altenburg's class for the past year-and-a-half, but there were no signs of a problem until the current school year started in September.
"In the first week I was told that he hit a teacher, I think he was fine until they tormented him," he told RadarOnline.com. "Akian then began constantly hitting people, which alarmed me.
"The final key was when they brought a behaviorist in and he said he had never seen Akian act out, and when he tried to get him to he didn't. Then I knew that they were doing something bad, because they were making him like that.
Article continues below advertisement
"The only thing I could do was drop a recorder in his pocket, they were deceiving me and they were hurting my son at the same time. It was a perfect storm of cruelty."
Now that he knows the truth, Chaifetz is determined that Altenburg won't be able to do this to another child again. "I personally want her teaching license revoked for the state of New Jersey, I don't want her teaching anywhere," he explained.