Exclusive
Teacher Caught On Tape Bullying Autistic Boy Has Hired Lawyer, Child's Father Demands She Be Fired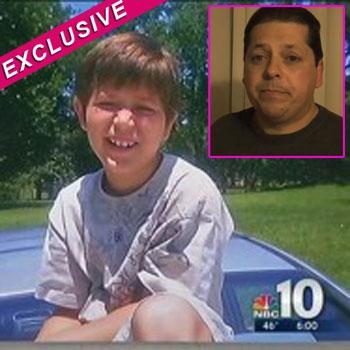 By Debbie Emery - RadarOnline.com Reporter
The damning audio of two school staff members bullying an autistic boy has caused outrage since the victim's father posted it on YouTube, and now RadarOnline.com can exclusively reveal that one of the alleged abusers has hired a lawyer to defend herself against the one-sided public attack.
As RadarOnline.com previously reported, Stuart Chaifetz suspected that his 10-year-old autistic son, Akian, was being picked on at the Horace Mann Elementary School in Cherry Hill, New Jersey, so he sent him to class one day last February secretly miked up.
Article continues below advertisement
According to the web site Collingswood.patch.com, Chaifetz, an artist by trade, is a self-proclaimed activist. He says he's fought for 20 years on behalf of various animal rights causes and that inspired him to hid a small digital recorder on his son.
The resulting six-and-a-half hour tape revealed a teacher and her aide teasing the boy, chastising him, having an inappropriate discussion within his earshot, and calling him a "b*****d."
Chaifetz was determined that justice would be served and posted a 17-minute long video on YouTube titled "Teacher/Bully: How My Son Was Humiliated and Tormented by his Teacher and Aide" calling for the bullies to be dealt with by the school district, which has so far generated almost 1.5 million hits.
A family member for shamed teacher Kelly Altenburg, who did not want to be named, told RadarOnline.com in an exclusive interview that Altenburg has hired a lawyer in response to the attack. "It has been very one sided and they need to review a few things and come out with a statement to defend herself," she told RadarOnline.com.
Article continues below advertisement
"It is unfair that he put her name out there on the internet without her being able to defend herself."
The relative went on to say that Altenburg has since been transferred to another school and that the actions she is accused of, "Are very out of character. I don't know if there has ever been an issue with this man before because I don't work with her, but she wasn't even in the office most of that day," she revealed to RadarOnline.com.
The latest uproar and move for legal action was prompted by a follow-up video posted on Tuesday, in which Chaifetz called out the school district for not firing Altenburg, whom he said has been transferred to another local school even after the Board of Education president released a statement claiming both staff members were "no longer working in the district."
"At any point, she (Altenburg) could have said stop treating him like that, stop yelling at him. But did she? No, she laughed at him when someone else mocked him. She is one of those people," the distraught dad told YouTube viewers.
Article continues below advertisement
"I am going to show you the evidence that this teacher works at Cherry High School West," he then went on to call the school and plays the personal message on the voicemail box belonging to Kelly.
"That was my son's teacher's name, I am releasing that now because I have to justify the purpose of this campaign, to show that I wasn't wrong. I do not want to fight the school board and the superintendent. I appreciate the swift action they took, thank you for firing Jodi, I appreciate it," he said, referring to the teacher's aide Jodi Sgouros who has reportedly been sacked by the school after being the most prominent voice in the recording.
"I never held the district in ill-regard, I don't know why they released that statement today, but I am forced to defend what I've done by releasing the teacher's name, and showing that she does in fact work within the school district.
"All I am looking for is justice for my son and to protect future children, because this teacher does not deserve to teach a child again. Beyond just being fired, her teaching certificate needs to be torn in half and thrown to the four winds to be forever lost," Chaifetz concluded.