Exclusive
Brandi Glanville Denies Cheating With Her Ex, LeAnn Rimes' Husband Eddie Cibrian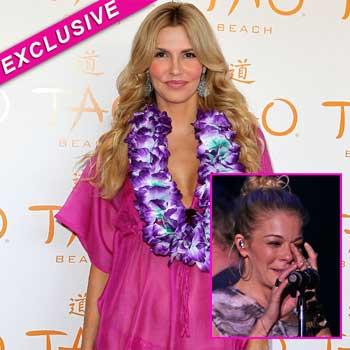 Brandi Glanville has lashed out over rumors she is having an affair with her ex-husband, Eddie Cibrian, insisting she would "never do that," RadarOnline.com is exclusively reporting.
The Real Housewives of Beverly Hills star has been forced to deny the cheating claims after they were blamed for Cibrian's new wife, LeAnn Rimes checking into a treatment facility.
"I'm NOT cheating with. Y ex husband I would never do that #EWWWWWW," Glanville wrote on her Twitter page Sunday.
Article continues below advertisement
Glanville has had a long time rivalry with who famously began her affair with Cibrian when he was still married to Glanville and she was still wed to Dean Sheremet.
Despite their bitter relationship - which often took place in the form of a slanging match on the social networking site - Glanvile and Rimes appeared to have most recently reached a truce.
In fact Glanville took the high road when she heard about Rimes' recent dramas and even offered her support.
"I totally support LeAnn's decision to enter rehab," Glanville said in a statement. "My top priority is my children and at the end of the day we are a family.
"LeAnn is their stepmom, and they love her. I am wishing her all the best and I hope she will find what she is looking for while in rehab."
However that hasn't stopped the rumors that Glanville is finally getting her revenge on Rimes for her role in ending her marriage.
Article continues below advertisement