Exclusive
THE REAL STORY: Shape Editor's LeAnn Rimes 'Apology' Much Ado About Nothing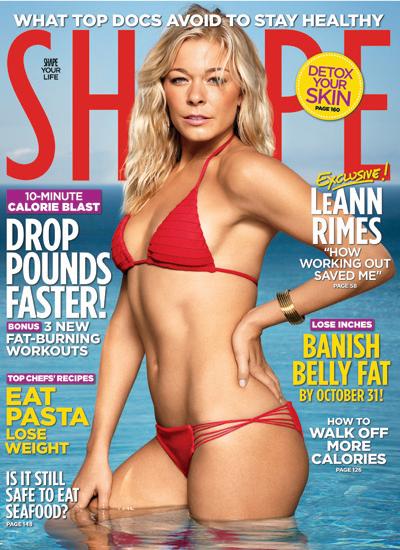 An apology from the editor of Shape magazine for putting LeAnn Rimes on the cover has led to sensational headlines but the real story about the supposed backlash the magazine received is that only 40 readers complained!
That's 40 people out of an audience of 6 million readers!
Shape is the runaway leader in its category and a magazine that wins awards for excellence year after year. When a small handful of readers complained about Rimes appearance on the cover because she was involved in a cheating scandal, the mag's award-winning editor Valerie Latona took the time to respond to them with an apologetic note.
Article continues below advertisement
But that note has now been blown out of proportion to make it seem as if the magazine suffered backlash.
LeAnn Rimes Opens Up About Affair With Eddie Cibrian in Shape
Latona set the record straight with RadarOnlline.com, telling us: "My comments have been taken out of context. I used the words of the few unhappy readers who wrote in.
"I stand by the fact that LeAnn's story is compelling -- and her courage and strength in the face of so much adversity is compelling. That is why I put her on the cover of Shape for what is now the third time.
"The fact is a mere 40 readers out of almost 6 million readers wrote in to complain calling LeAnn a "husband stealer" and a "terrible mistake for Shape". I wrote to those women apologizing that our cover choice did not make them happy -- as I have done for other cover stars in the past."
While it's rare for an editor-in-chief to directly reach out and address a handful of readers' concerns, Latona has helped build Shape into the runaway leader in its field. The monthly magazine features celebrities on its covers and regularly attracts Hollywood's A-list.