LeAnn Rimes Opens Up About Affair With Eddie Cibrian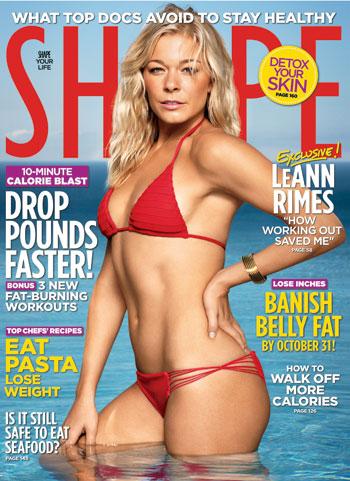 In an new, candid interview with Shape Magazine, LeAnn Rimes opened up about her messy divorce, her new romance, and finding strength and solace in working out.
Watch The Video For More With LeAnn
"I feel like I'm just now finding myself," Rimes said. "I've always been one of those people who takes care of everyone else—and their needs—first. This past year, for the first time ever, I put me first. I'm sure some people are thinking that I was totally selfish, but the truth is, there are times in your life when you have to be selfish in order to find out what truly makes you happy."
Article continues below advertisement
Rimes split with her husband Dean Sheremet last year, shortly after the news broke that she was seeing co-star Eddie Cibrian. Cibrian and Rimes have since moved in together, allowing her to get accustomed to another role: helping with Cibrian's two children Mason and Jake who she says she loves to cook for.
Though the road ahead looks clear and sunny, Rimes confessed that her divorce- and the negative media fallout surrounding it- took its toll.
"Sometimes I felt so depressed I didn't want to get out of bed, so just getting to the gym—even for a few minutes—was a big accomplishment. It really did make me feel better and kind of saved me. It gave me a bit of sanity. Even now, on days when I'm really frustrated, I'll walk into the gym and say to my trainer, 'We're boxing today. For an hour. I need to hit things.'"
Though Cibrian's toned physique has always been much-admired, Rimes revealed that when it comes to exercising, she rules the roost!
Article continues below advertisement
"He's going to kill me for saying this, but when I ask him to work out with me, he always says no. And when I ask why, he says, 'Because your workouts are too hard.' And he's right: I'm serious about my exercise. I don't just doodle around."
For now, Rimes is coming to terms with the repercussions of her past decisions and is at a place in her life where she can learn from the experience and move on.
"My relationship with Dean was great, but ultimately it wasn't a fulfilling marriage for either of us. We got married so young: I was 19 and he was 21, so as we got older, we grew apart," Rimes explained.
"I understand why people are disappointed in me, especially since I grew up as America's sweetheart. I think any relationship is hard to get out of, and I don't think the way I did it was right. I truly believe there are lessons in it for me to learn. Cultivating strength from rough situations is the most important thing. After going through this, I know I can face anything."