Brandi Glanville Sends Out Snarky Tweets About LeAnn Rimes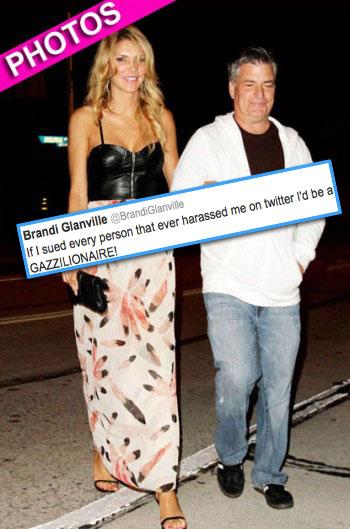 Brandi Glanville had a busy Tuesday night: In addition to going out to dinner at swanky West Hollywood eatery Craig's, the Real Housewives of Beverly Hills star presumably commented about LeAnn Rimes' ongoing legal wrangling.
While not mentioning Rimes directly, the mother-of-two seemingly sent out a pair of snarky tweets critical over the singer taking legal action against Northern California schoolteacher Kimberly Smiley and another woman for invasion of privacy, claiming Smiley had taped a telephone conversation they had.
Article continues below advertisement
"Maybe I should sue you for this bullying tweet!! #owners**t," the outspoken Glanville wrote, later adding, "If I sued every person that ever harassed me on twitter I'd be a GAZZILIONAIRE!"
As we previously reported, Rimes entered treatment late last month following a bizarre series of exchanges with Twitter users critical of how she and husband Eddie Cibrian hooked up during his marriage to Glanville.
In one instance, Smiley says Rimes called her and said, "Hey b**ch this is LeAnn you have 5 minutes to say whatever you want to me!"
Smiley said she was put off by the How Do I Live singer's salty language, adding she thinks Rimes has used Glanville's and Cibrian's young sons Mason and Jake "in her sick game."
In her lawsuit, Rimes requests a preliminary injunction against the defendants from "republishing, distributing, or otherwise disseminating the unauthorized recording" and other unspecified damages.