Exclusive
LeAnn Rimes' Lawsuit Against Teacher 'Will Make Her Entire Medical File An Open Book,' Says Lawyer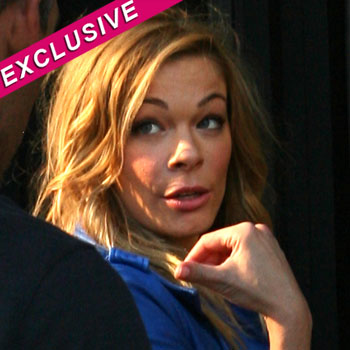 Article continues below advertisement
As RadarOnline.com previously reported, Rimes filed an invasion of privacy lawsuit against Kimberly Smiley, a mom-of-six, last week, claiming the teacher taped a phone call the star placed to her unexpectedly. The core of the case is a Twitter war between the singer's supporters and detractors, with one fan even posting photos of the teacher's kids on the site and the address of where she worked.
"All of this comes into evidence and witnesses can be subpoenaed," explained Cole, and even more troubling for Rimes, who is currently in an in-patient treatment facility for anxiety, her entire negative history is now up for assessment.
"If LeAnn is suing Kimberly then she becomes an open book and her medical history can be relevant and admissible in court," Cole told RadarOnline.com. "So if she claims that Kimberly is causing her emotional distress, her lawyers can say, 'No, we want to look at your medical records because you could have been suffering anxiety for a lot of things before, which caused you to enter a rehab or a mental health institution,'" he explained. "Your entire medical file becomes an open book when you choose to sue."
Article continues below advertisement
LeAnn revealed in an interview with People this week that her emotional problems are far from a new problem. "I think I've buried some issues for a long time," she admitted. "I've been built up and torn down, built up and torn down. It's been difficult to tune people out, especially in the last few years."
Even admitting that she has had anxiety problems in the past may have meant LeAnn shot herself in the foot in terms of her lawsuit, considering that she is claiming that the harassment on the Internet had caused her emotional distress.
As a celebrity, the 30-year-old country star does not have a strong argument, according to our legal expert. "Public figures don't really have much of a claim to invasion of privacy," explained Cole.
"Social media does become a real danger zone in terms of what you can get away with and what you can say about other people, but the bottom line with a public figure like LeAnn is you can get away with an awful lot and you can say an awful lot and have no penalty as a result.
Article continues below advertisement
"You can even say false things about public figures if it is opinion or if you don't have prior knowledge that it is false," he added.
As to whether it is illegal for Smiley to even have recorded the phone call with LeAnn without her knowledge, the lawyer explained that is a "subtle" area of the law and is dependent on a lot of variables.
"If you are talking to the police then they can allow you to record it, if you feel you are being victimized by some criminal activity then you can record, or if there is no expectation of privacy," said Cole.
Even if they are in the right, "a lot of times people won't sue because it just opens up a whole can of worms and thrusts the recordings into evidence. Technically it could be illegal, and technically you could be subject to a fine, but a lot of people will just look the other way on this stuff," he explained.
RELATED STORIES:
LeAnn Rimes Breaks Silence About Why She's In Treatment: I've Buried Issues
LeAnn Rimes Supporter Admits To Harassing Teacher Being Sued By Star
LeAnn Rimes Public Relations Stunt Backfires: Her Legal Team Serves The Wrong Woman!
LeAnn Rimes' Lawsuit Against Teacher 'Is Bad Move For Her Image,' Says Crisis Management Expert