Exclusive
LeAnn Rimes' Lawsuit Against Teacher 'Is Bad Move For Her Image,' Says Crisis Management Expert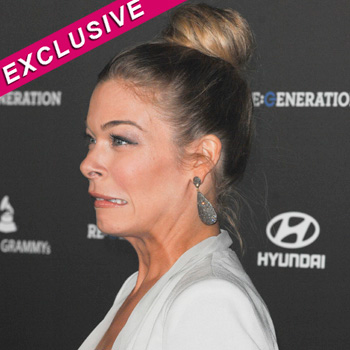 Article continues below advertisement
"Filing the lawsuit against this alleged tape of her bullying the teacher is not going to play well for her image," he predicted. "Sometimes legal action doesn't quell the crisis, it elevates the crisis, even more so when you use your money, your celebrity and your power to put the person in a check mate position - legally speaking that doesn't bode well for your celebrity, especially when you look at where she comes from, the country music world is a very-heartfelt, warm community."
Article continues below advertisement
Bilello went on to point out that stars need to be cognizant of their every move rather than blurting alleged abuse out on a phone call. "You have to assume as a celebrity that everything you say can and will be used against you," he warned. "If you enjoy the celebrity that allows you to achieve the career that you desire, then you have to mind what you say – you cannot explode on people especially on the phone or over e-mail and Twitter because it will come back to haunt you.
"You have to be able to protect your brand, it's a 24/7 job and you can't let your guard down," the crisis management expert advised.
Instead of making such an obviously defensive maneuver against a teacher who claims it may lead her "to lose her house," the singer should come out and say, "'We all have bad days, I lost my temper, I apologize,' and then move on,'" recommended Bilello, adding, "I think America is more sympathetic to that type of play."
Article continues below advertisement
Rimes' image has hardly been squeaky clean since she cheated on her first hubby Dean Sheremet with current husband and then-married man, Eddie Cibrian, and she has since bragged about their relationship on Twitter.
"With any past scandal such as her affair, you have to close that door and make sure any non-disclosure agreement has been signed and then be honest with yourself and take personal inventory.
"Don't listen to everyone around you in your circle telling you who you are or used to be, someone needs to look you in the eye and tell you who you are today. Then we can put together a brand that's in tune with your current public image."
Sadly, LeAnn is: "Clearly not taking public inventory or is in touch with her brand," Bilello says.
With the singer currently getting treatment for anxiety, Bilello has clear cut advice for her moving forward. "I would say, drop the lawsuit, you have nothing to gain – move on and focus on your personal life."
Article continues below advertisement
Los Angeles Criminal Defense Attorney Dana Cole agrees that legal action is inadvisable in the case. "LeAnn's lawsuit is going nowhere fast," he exclusively told RadarOnline.com. "It appears to merely be meant to slap Smiley down.
"The problem LeAnn will discover is that whenever you file a lawsuit, you become an open book," he revealed. "I predict once Smiley's lawyer demands that LeAnn appear at a deposition to answer all sorts of personal questions about her apparent mental breakdown, she'll immediately dismiss it."