Exclusive
Chad 'Ochocinco' Johnson Is 'Reaping The Negative Effects Of His Desire For Attention'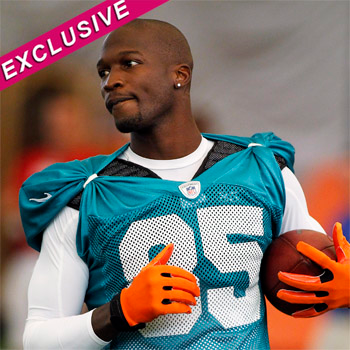 By Debbie Emery - RadarOnline.com Reporter
With his football career, his reality TV aspirations and his marriage all in tatters following an incredibly tumultuous week, the future looks bleak for NFL star Chad 'Ochocinco' Johnson, and RadarOnline.com has exclusive details on the affect his string of personal problems will have moving forward.
"When you establish a big brand and you come to the NFL with a big personality, you have to work twice as hard to protect it, and Chad is definitely reaping the negative effects of his desire for attention," Michael Bilello, President and CEO at Centurion Strategies, a public relations and marketing agency that handles high-profile athletes, told RadarOnline.com in an exclusive interview.
Article continues below advertisement
"He is certainly in crisis mode right now and he will definitely need to find himself immediately in order to come out of this in the best shape that he possibly can," Bilello explained. "That puts him in an interesting position in terms of where he is in his career."
As RadarOnline.com previously reported, Basketball Wives star Evelyn Lozado filed for divorce from her estranged husband after just 41 days of marriage following a violent incident on Saturday when he allegedly head butted her. The six-time Pro Bowl receiver was then arrested by Davie, Florida police and released from jail on $2,500 bond Sunday after being charged with simple domestic battery, a misdemeanor.
After being picked up by the Miami Dolphins earlier this year when the New England Patriots cut him, the wide receiver's contract was terminated by the team within 24 hours of the domestic abuse scandal, and not only is he off the team, publicity-hungry Johnson, 34, is also off the air because canceled the reality show Ev & Ocho about his and Lozada's Caribbean wedding that was set to air in September.
Article continues below advertisement
"Anytime you do anything on a big scale there are big consequences and also a big pay off. People like Chad see the big pay off but not necessarily weigh up the consequences," said Biello in reaction to the roller coaster of events slamming the 34-year-old all at once. "These are all life decisions he is making."
Johnson only signed with the Dolphins in June and "he perhaps had another shot at starting this season if he stayed healthy and all things indicate that he was doing well in training camp and interacting well with his teammates," explained Bilello, whose firm often handles crisis management for high-profile athletes.
"It will be interesting to see if he can recover from this. Teams are very focused about having any type of individuals who have problems in their personal life, so Chad is not looking real team-friendly right now when you consider what he has done," he told RadarOnline.com.
That is made all the worse now he is in "the domestic abuse category."
"We look at certain players who are offenders of some nature and they are forgiven and they are able to assimilate back into the league. They may change, everyone makes mistakes. You may be a gifted athlete who is learning an important lesson on the main stage and have to deal with the consequence of that offense," said Bilello.
Article continues below advertisement
"But when it comes to a domestic dispute, there is no excuse for that," he said firmly.
One of the most notorious recent examples of a player crossing the moral line is Philadelphia Eagles quarterback Michael Vick, who served 19 months in prison for his role in a dog-fighting ring and since his release in June 2009 has successfully rehabbed his image and even won the support of the Humane Society.
"Michael Vick's scandal enraged a certain sector of America as we're a nation of dog lovers, but his comeback was text book, he did all the right things and many people forgave him," said Bilello.
"With domestic abuse, it is treated differently depending on the industry you are in and the NFL does not take it lightly," he went on to explain. "If you look at someone who is in the music and film industry, they seem more keen to forgive and forget such as the case of Chris Brown. His career appears to have moved on without a ripple."
If Johnson wants to get a second chance on a team and be signed on as a wide receiver again, he needs to put his money where his mouth is.