Michael Vick Seeks Forgiveness For Dog Fighting: 'I Was Naïve To The Consequences'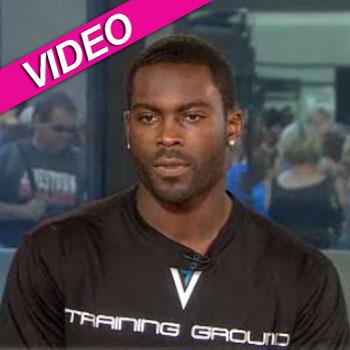 By Debbie Emery - RadarOnline.com Reporter
Quarterback Michael Vick went from a NFL star to a convict and the target of hatred for animal lovers across America when he was sent to prison for dog fighting in 2007, but he is now trying to clean up his reputation for good and seeking redemption for his past crimes.
The Philadelphia Eagles player opened up to Matt Lauer on NBC's TODAY on Tuesday about his ignorance over the cruelty of the sport and how he hopes others will learn from his grievous mistakes.
Article continues below advertisement
"So many people have their own opinions of what they thought should have happened. Their perception of the situation, whether or not they know the origin of what I was into. They get it wrong. I wanna help them get it right," Vick, 32, told the morning show host.
In his upcoming autobiography, the Virginia native reveals that he was exposed to dog fighting at the age of eight, and at the time thought the gruesome sport was fascinating.
"I always thought about it (being wrong) and it was always in the back of my mind. But I was very naïve to the consequences," Vick explained, "And that's what I don't want to happen to young kids today. That was the main reason I became an advocate."
The Eagles starting QB is now working with animal rights groups to bring awareness to dog fighting and let youngsters know that is not the life path that they should take.
Article continues below advertisement
He revealed that the worst part of his ordeal was seeing it announced on TV that he could go to prison while watching football with his then seven-year-old son, Mitez, who burst out screaming, "I don't want you to go to jail!" to his dad.
"I was hurt, I was ashamed. And it was all my fault," explained Vick to Lauer. "It was tough, I really couldn't explain it, all I could do at the time was console him. It was too far-fetched for his brain. The only thing he knew was that I was going to jail. It was a situation that money couldn't get me out of.
After serving 19 months in prison, Vick was released in July 2009. He started playing for the Eagles the following September and immediately began trying desperately to rehab his image.
"I'm just trying to do not only what will help myself but also help the masses of people and I think that's most important," he replied, when asked if it was all just a PR ploy. "I can't try to change people's perception of me, the only thing I can do is try to help the people who may need help in the category that I failed in.
Article continues below advertisement
"That's why I am part of the Humane Society and will continue to work with them."
Vick went from public enemy number one with the group to their figure-head example of why dog fighting is a dead end.
"Just as former drug addicts are able to reach people struggling with addiction, former dog-fighters are some of the most effective voices against this crime," the Humane Society wrote in a statement that was read out by Lauer.
"The president and I have a great relationship and that has been developed over the past three years," explained Vick, who added. "I still have more to prove each and every day. You never know it all and should always be striving to do better.
Despite his troubled past and criminal record, the QB has bounced back to sign a 6-year, $100 million contract with the Eagles and even resigned the multimillion dollar endorsement deal with Nike after they dropped him when he went to jail.