Exclusive
PETA Slams Kim Kardashian Again, This Time For 'Cruel Crocodile-Skin' Purse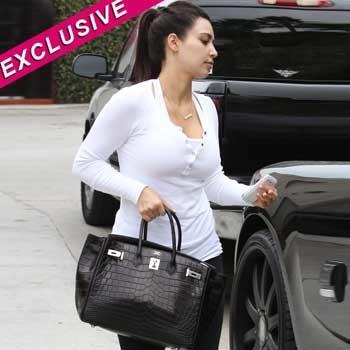 By Debbie Emery - Radar Reporter
Kim Kardashian cemented her role as an enemy to animal lovers on Friday by adding a pricey crocodile-skin Birkin bag to her cruel closet, which includes countless fur coats and python knee-high boots.
The cost of the rare designer purse can reach $50,000, but the animal rights group says the price paid by the creature that died for it is far greater.
"For every alligator or crocodile-skin accessory, an animal was likely beaten but still conscious and able to feel excruciating pain as his or her skin was peeled off," PETA spokesperson Wendy Wegner told RadarOnline.com in an exclusive interview.
Article continues below advertisement
"These animals feel fear and pain and they don't want to die. Alligators and crocodiles have no real legal protection, but they have done nothing to deserve the violent treatment that they endure. PETA urges consumers to watch Joaquin Phoenix's video expose of the cruel exotic-skins industry and vow today never to buy items made from the skin of alligators, snakes, or crocodiles."
As RadarOnline.com previously reported, the Keeping Up With The Kardashians star was compared to evil Disney character Cruella de Ville by the animal rights group last month after she was spotted strutting around Paris in a pair of thigh-high Christian Louboutin python boots, which retail for $5,495 and are banned in her home state of California.