Exclusive
'$100k Hermes Birkin Bag' Burned On Clint Eastwood's Reality Show Was Fake, Claims Expert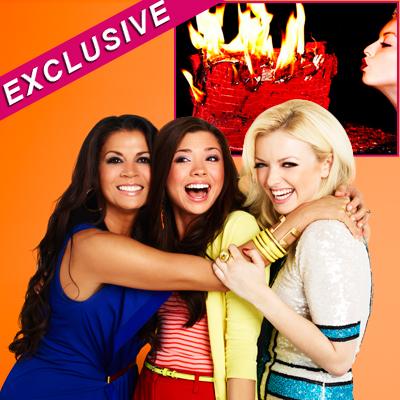 RadarOnline.com Assistant Managing Editor
On a recent episode of Clint Eastwood's family reality show, his daughter Francesca supposedly burned a $100k Hermes Birkin bag, but a Hermes expert tells RadarOnline.com exclusively that the bag appears to be a fake, and while still rather pricey, would actually retail for far less than the real deal.
Francesca burned the red Hermes crocodile handbag for a photo shoot with her boyfriend, photographer, Tyler Shields. Shields told Francesca that burning the bag that is coveted by Kim Kardashian, Victoria Beckham, and fashionistas world wide, was a way to prove that material objects don't define a person.
Article continues below advertisement
However, according to Amanda Mull, managing editor of PurseBlog.com, which boasts more than 350,000 members and is the world's largest accessories website, the bag was clearly a fake, and a bad one at that!
"The bag depicted in Tyler Shields' photos struck me as a fake as soon as I saw it and the Hermes experts who read our blog and post in our forum agree," Mull tells RadarOnline.com. "The bag in the pre-burning photo looks thin, wrinkled and plasticky, which are all the signs of a cheap material, probably PVC, that's been embossed with a scale pattern to mimic real crocodile. If it were real the bag would be quite stiff and incredibly smooth with strong handles that wouldn't twist the way that they do in Francesca Eastwood's mouth and material that wouldn't wrinkle or bunch as it does throughout the body of the bag."
Francesca, Clint's daughter from his previous relationship with Frances Fisher, gleefully proclaims when first presented with the Hermes handbag, that it is worth, "$100k," but our expert says that even if the bag was in fact real it would still only be worth a fraction of that price. "A crocodile Birkin similar to the one in the photos would retail for about $38,000, far below the $100,000 price tag that's been assigned to it," Mull states.
Article continues below advertisement
"If Tyler has proof that the bag is real, such as a credit card statement showing the purchase or a statement from the Hermes employee that sold the bag, he should definitely show it. The entire artistic intent of his work is predicated on his willingness to destroy something for which he paid a great deal of money. If he didn't actually carry out that part of the work then it would negate whatever merit the photos might have, if any."
Mull admits she has never watched the show, but would like to see how the bag episode is presented.
"I'm interested to see the episode that tells the story of how the photos were made, mostly because I wonder what lengths they go to in order to make everyone think the bag really cost $100,000," she says. "I'm sure there will be some very clever editing. I'd like to congratulate them on a well-executed publicity stunt. If Tyler and Francesca want to be reality stars, that particular talent should serve them well in the future."
Article continues below advertisement