Babies, Teenage Rebellion and Wisdom From Clint: Mrs Eastwood & Company Debuts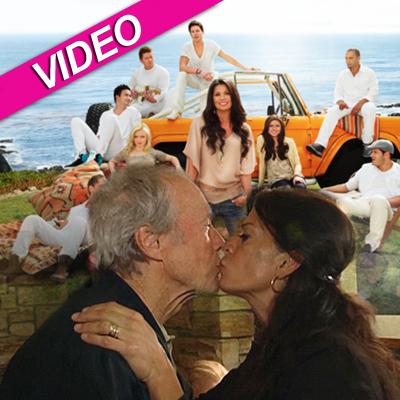 Oscar-winning actor and director Clint Eastwood has always kept his private life out of the headlines, but all that has changed with the premiere of his wife's new Kardashian-style reality show, Mrs. Eastwood & Company.
But any hope that the inner workings of this gilded household in Carmel, California would offer up anything different from their established counterparts in Calabasas was dashed Sunday night with the pedestrian premiere of E!'s latest show, and RadarOnline.com has video of the debut.
Article continues below advertisement
The big opener offered up the usual fare, a family row over Clint's 15-year-old daughter Morgan wanting to get her navel pierced and followed his other child, Francesca, 19, as she bonded with her baby cousin after previously asserting that she didn't want children.
The show focuses on Clint's wife Dina Ruiz Eastwood, who claims she has allowed the cameras into their lives to help get Overtone, a six-man vocal group she discovered in New Zealand while Clint was filming Invictus there, signed to a record label.
She fails during this episode, and the drama focuses on the frothier piercing plotline, which sees Dina throw her youngster off the idea by having her own navel pierced, which allows plenty of shots of the 46-year-old's tanned and toned stomach.
Morgan later says: "I guess it's really cool that my mom risked my dad getting really mad at her just to teach me a lesson. It definitely scarred me for life."
Article continues below advertisement
While it centers around the women in his world, the 81-year-old Dirty Harry star does appear in one dinner scene, but it is brief.
It's not the first time the couple has worked together, Dina has appeared in two of her husband's films, True Crime and Blood Work.
Francesca, Clint's daughter by actress Frances Fisher – who also appeared in True Crime with Clint and Dina – was also featured with her photographer boyfriend, Tyler Shields.
His edgy photo shoots with starlets including Lindsay Lohan and Mischa Barton have seen him branded a controversial figure, but in this episode he appeared broody and keen to settle down as Francesca resisted… until the baby cousin arrived.
After she discusses the issue with her boyfriend, Francesca changes a diaper and realizes that baby Jackson "is pretty damn cute.'"
Tyler says: "I think you'd be a really good mom - but we'll wait a little while."
Article continues below advertisement
Meanwhile there are also problems within the group as one of the band members, Edward, is debating whether he should come out as a homosexual.
Emile, the band's frontman, wants him to stay in the closet publicly as he thinks it will negatively affect the band's prospects of success.
Edward is devastated and tells Francesca that while Emile is supportive, he has told him that he does not want Edward's homosexuality to affect the band, which angers Francesca.
Luckily, Clint arrives back in town at the nick of time and the family assemble at his Mission Ranch restaurant.
They discuss Edward's dilemma over dinner and Clint says that as a libertarian his belief is: "Leave everybody alone, that's the thing. Big deal."
Francesca is inspired by her father's words and says: "I'm so over hearing Emile tell Eddie that he has to stay in the closet for the sake of the band - something has to be done."
Article continues below advertisement
She, and her uncle Dominic, decide to vandalise Emile's car with slices of baloney lunch meat and cheez wiz because "I think this situation is baloney and Emile is pretty cheesy."
The next day Emile tells Dina about his car being vandalized and when Francesca and Dominic start laughing during the conversation she realizes that they are responsible.
Dina gets very upset and demands that Francesca confess and apologize to Emile. After meeting for lunch and discussing the situation Emile sees that maybe he has not really been supporting Eddie: "I feel bad now, now I feel like s***."
"Talking with Francesca it's like, what was I thinking? I was so caught up in business. I should have supported Eddie from the start. I am there for him and I need him to know that, it's important."
Mrs. Eastwood & Company shows on E! channel @10/9c