Joe Giudice Threatens To Leave Teresa: 'I'll Leave You As Well, I Swear On My Kids'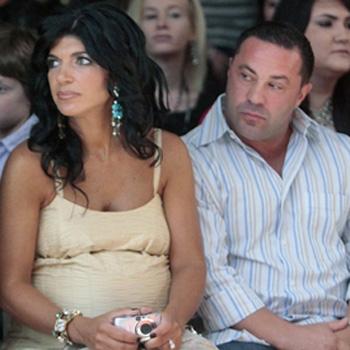 Joe Giudice is no fan of his brother-in-law Joe Gorga, but things have gotten so bad that now Joe is threatening to leave his wife if she doesn't cut ties with her family.
The drama went through the ceiling on Sunday night's episode of The Real Housewives of New Jersey when Joe, 42, went on an expletive-laden rant about why he hates the Gorgas — telling Teresa, "Try to get me around your family, just try it! I'll leave you as well, I swear to you on my kids."
Article continues below advertisement
Teresa tried to keep Joe calm, but it didn't stop him from giving her the ultimatum and dropping the f-bomb more than a handful of times.
"You're a f**king idiot for even going to going to f**king talk to your f**king retard brother. I don't give a f**k," he said.
"I would say 'You know something, Joe? Save it.' We can't get along with those people. They're jealous, no-good idiots. I don't want to hear about them any more. When I say something, you f**king listen, and shut up!"
Just one week prior, Teresa and her brother Joe got into a knock-down, drag-out war of words at a pool party hosted by fellow housewife Kathy Wakile.
Tension has also been mounting between Teresa and her sister-in-law Melissa Gorga over a comment Teresa made when she said Melissa would leave her brother for a richer man if one came along.
Heading into the pool party, Joe was looking to make amends with his estranged sister.
Article continues below advertisement