Melissa Gorga Accuses Teresa Giudice Of Trying To Wreck Her Marriage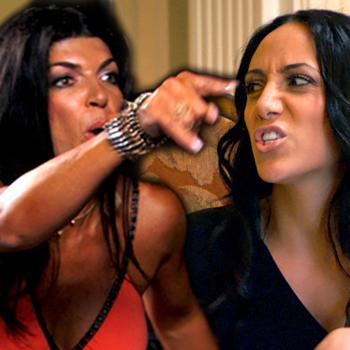 Article continues below advertisement
"I wish he never told me. Why would she ever say something like that, it's another dig, but to him this time," Melissa writes. "What is she trying to say, I only love him for the money? Oh, because he's not handsome, charming, or sexy? He's not an amazing husband and father? Money is all he has going for him? I don't think so.
"I have been married for almost eight years now, I have three beautiful children with this man. I've never heard her say anything like this until we joined this show. It's almost like she is planting a seed for everyone to believe. Or even for her brother to believe. She knows Joe and I have had times when we couldn't even buy diapers, and that's when I stood by him stronger than ever."
Melissa goes on to question Teresa's motives for making such an accusation and accuses her of trying to wreck her marriage!
"Once again it's almost like she is planting a seed for everyone to believe," she writes going on to explain what happened after Joe confronted his sister. "When Joe confronted Teresa on what she said about me, she once again had no excuse and said, 'I heard rumors.' We hear rumors all the time, but don't go to Teresa or her husband and ask if they are true. It's ridiculous that Teresa is upset that Joe said something to me. I am his wife and in no way is it right to say something like that to your brother about his wife and expect him to just live with it.
Article continues below advertisement
"If it's just rumors, why put that in your brother's head? Also, what I'm really wondering is if she's suddenly going to come up with some kind of rumor to get herself out of this so that she has an excuse. When we were filming then, I hadn't had performances or appearances yet and every appearance or performance I have done since Joe has attended. He's my husband and my best friend. We enjoy each other's company, is that a crime? Can't wait to hear more about these rumors… I wonder how RICH this new man will be?"